DocGo delivers electric, zero-emissions ambulance
"Our 'Zero Emission' Initiative exemplifies how DocGo is revolutionizing the delivery of mobile medical care," said DocGo CEO and founder Stan Vashovsky
---
By Leila Merrill
NEW YORK —DocGo said Thursday that it has delivered its new electric, zero-emissions ambulance, but it has not released the name of the recipient.
"We are tireless in our quest to innovate how care is provided," said DocGo CEO and founder Stan Vashovsky in a news release. "Our 'Zero Emission' Initiative exemplifies how DocGo is revolutionizing the delivery of mobile medical care, and building a company that's better for our patients, for our care providers, for our customers, and for the planet."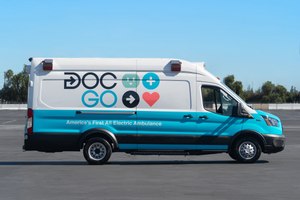 DocGo worked with Lightning eMotors on the ambulance.
The on-demand ambulance and integrated telehealth service provider that was known as Ambulnz announced about a year ago its plans to merge with publicly traded special purpose acquisition company Motion Acquisition Corp. DocGo is the resulting company.

Request product info from top Ambulances companies
Thank You!