Nearest AED to be integrated into medical dispatch protocols
Priority Dispatch and PulsePoint announce partnership to help emergency medical dispatchers inform callers of the closest AEDs
---
NEW ORLEANS — Priority Dispatch Corp. and the PulsePoint Foundation today announced a global, strategic partnership that will optimize the way Emergency Medical Dispatchers pinpoint and communicate the location of AEDs during time-critical cardiac emergencies. 
Through this partnership, the organizations unveiled integration plans that allow EMDs to inform callers of the exact location of nearby AEDs directly within existing medical dispatch protocols and with no changes to workflow. The announcement was made at Navigator, the annual conference for police, fire, medical and nurse triage dispatch, hosted by the International Academies of Emergency Dispatch.
"With this new integration, the dispatcher may no longer need to ask if there is an AED available when a caller reports an unconscious, unresponsive victim," Richard Price, President of the PulsePoint Foundation said. "The EMD will now be shown a distance-ordered list of all nearby devices directly from the PulsePoint global registry."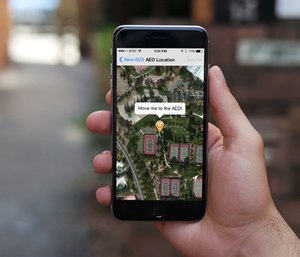 Each year in the U.S., there are approximately 360,000 EMS-assessed cardiac arrests outside of a hospital and on average, less than 10 percent of victims survive. Communities with comprehensive AED programs that include CPR and AED training for rescuers have achieved survival rates of nearly 40 percent for cardiac arrest victims. 
"Bystander CPR when applied early in cardiac arrest can more than double survival," Bryan McNally, MD, Executive Director of the Cardiac Arrest Registry to Enhance Survival Program said. "Although less than 12 percent of cardiac arrests that occur in public receive bystander AED treatment more than 33 percent of these patients survive. Routinely making lay responders more aware of public AEDs has the potential to save thousands of lives each year nationally."
Although AED availability in public places is increasing, their use remains negligible. Low utilization has been attributed partly to citizen rescuers being unfamiliar with the devices and unaware of their location. Unfortunately, most EMDs don't have access to AED installations and are unable to tell a caller where the nearest one might be. 
"The routine use of AEDs is predicated on both the EMD and the caller's ability to locate and retrieve the device promptly for immediate use at the patient's side," Jeff Clawson, MD, co-founder of the International Academies of Emergency Dispatch said. "This is greatly enhanced by the smooth collaboration of both the medical priority dispatch system, MPDS, when used in ProQA and PulsePoints' enhanced AED registry and responder program. This will undoubtedly improve SCA survival significantly for the better." 

Request product info from top AEDs companies
Thank You!