Medics, FFs shave heads to support girl's battle with leukemia
The emergency responders showed support for the 4-year-old by joining #BrinleysBaldHeadChallenge
---
SAGINAW, Mich. — Paramedics and firefighters from Mobile Medical Response and Buena Vista Township Fire Department had their heads shaved in support of a 4-year-old's battle with leukemia.
Brinley Jungnitsch began her second round of chemotherapy Nov. 2, and to support her journey, she launched a "bald head challenge", WNEM reported.
Brinley shaved the heads of medics and firefighters Oct. 30, and even cut some women's hair.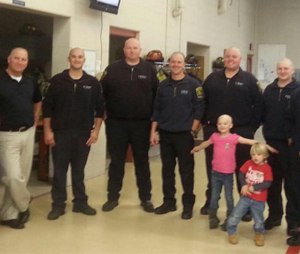 Brinley's father, Frank Jungnitsch, was the first to have his head shaved when his daughter started chemotherapy last month.
"Thank you a million ... just to get a smile on my daughter's face is a miracle," he said.
Brinley and her family share her progress on a Facebook page called Brinley the Brave, and also started a GoFundMe campaign to help cover the costs of her treatment.