Calif. EMS agency deploys providers to overwhelmed nursing facilities
EMS providers from Royal Ambulance stepped in to assist after staff members and residents at eight skilled nursing facilities fell ill
---
By Laura French
SAN LEANDRO, Calif. — Skilled nursing facilities (SNFs) in California facing the prospect of evacuating patients due to the impact of COVID-19 were lent a helping hand by a local EMS agency. 
Royal Ambulance sent 30 of its EMTs to staff eight overwhelmed facilities in San Francisco, San Mateo, Santa Clara and Alameda to help with daily care of elderly and vulnerable patients, according to a press release by the California Ambulance Association.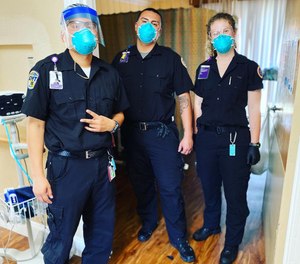 "To say that COVID had a disproportionate effect on the long-term care industry would be an understatement. In six states reporting data, deaths in long-term care facilities account for over 50% of all COVID deaths," said Royal CEO Steve Grau. 
The Royal initiative, called Project "Helping Hands," began when Senior Territory Manager Mac McKissack heard of the impact of the pandemic on the agency's SNF partners through media reports and text messages.
"When we got a call from an SNF partner asking if we could help with staffing, it took me a minute to grasp the severity of the situation," said Royal CEO Steve Grau. "We quickly posted a request to care for the COVID-positive patients to our internal network, and the response was overwhelming." 
The EMTs work with SNF employees in the role of a CNA, helping with tasks such and bathing and feeding, as well as showing care and compassion to the residents.
"Working at the SNF, I have the pleasure to know the patients and staff more on a personal level; I learned new skills from the CNAs, as they are the backbone of these facilities," said Royal EMT John Chu. 
Grau said Royal's EMTs have enthusiastically risen to the challenge of assisting during the pandemic crisis, saying they demonstrated the agency's core values and embodied the "DNA of EMS." 
"Royal saved our lives. On March 30, we started having patients and staff getting sick, including myself. We had to go home and quarantine for the 14 days," Andrew Boyd, regional director of operations at Generations Healthcare said. "On April 9, EMTs started showing up and they have been here since today. You saved us from having to evacuate patients. Thank you so much."