400 buckets of emergency supplies donated to school with help from FD, EMS
Supplies including flashlights, bandages, gauze and items to make a tourniquet were donated by local emergency agencies and businesses
---
Austin Miller
Kirksville Daily Express, Mo.
KIRKSVILLE, Mo. — Shawn Corbett is always focused on doing whatever is needed to keep the students at the Kirksville R-III campus safe.
So following an active shooter drill last summer, Corbett, head of the district's transportation, facilities and safety, realized school staff members would be the first responders on the scene since it would take law enforcement about 10 minutes to reach the campus. From there, with the help of the Adair County Ambulance District and many more individuals, a plan was created to have buckets filled with emergency medical supplies in every classroom.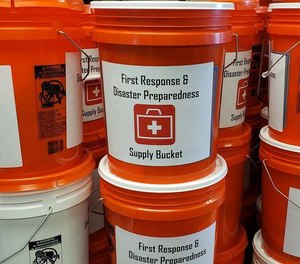 That plan was fulfilled Thursday morning as more than 400 buckets were delivered, across each building.
"So we thought, 'What else can we do?' Well, let's give them a tool kit," said Corbett. "One thing out there is this Stop the Bleed bucket. You can spend thousands of dollars on some neat ones, but, of course, we're a school district so money is always tight. So we thought if there was something reasonable we could do. ... So here we are today and we finally got to deliver those to the schools."
Each bucket is filled with items such as bandages, a flashlight, gauze, a door blocker and items to make a tourniquet. All of the items were donated by local businesses such as Home Depot, Menards and Kirksville Lumber. And also with the help of local organizations like ACAD, the Adair County Rural Fire Department, the Kirksville Retired Teachers Group and many more. Altogether, more than 20 sponsors worked to fill the buckets.
However, the hope is that they are never needed.
Corbett, a lifelong Kirksville resident, said he was very proud to see the amount of support this project received from the community. But that was only a necessity due to the dark reality of recent years with many school shootings.
"There are two sides, unfortunately," Corbett said. "One is the society that we seem to be living in now that we really have to bring this to the forefront. But two, we get so much support in many ways and in a lot of different areas. This is one that, obviously, people think is very important, and stepped up as soon as they heard we needed this or that. It just speaks to the community that we live in."
There was an initial training done last August where staff members were taught how to use emergency supplies and how to administer CPR. Since then, two intruder safety drills were done during the fall semester. Each building on campus has to do at least two of those per semester, treated similarly as mandatory fire drills.
Further on the horizon for security, the district has started receiving bids for a campus-wide camera system. Corbett brought the topic to the Kirksville School Board at its most recent meeting on Jan. 10. Bids have started to come in and he hopes to have one selected soon and be installed by the start of next school year.
Corbett said only the high school and William Matthew Middle School have cameras, with the high school's being outdated. He said the middle school's cameras were better off than those at the high school, but are still worthy of an upgrade. Along with the other buildings on campus, cameras will be added around Spainhower Field and the maintenance shed.
And there are some extra precautionary measures Corbett would like to see with the camera system. One of which would be a live feed that could be shared with law enforcement officials, so they could see exactly what kind of situation they could be entering. Gunshot detectors are another, which would be mounted along with the cameras. Those devices can triangulate the location of the gunshot while also being able to filter out other noise.
"We've tried to stay ahead of the curve state and nationally," Corbett said. "That's been through support of our administrators, our superintendents, our School Board at Kirksville. And we'd like to stay that way. The camera package is probably the next thing we can do to continue that."
———
©2020 Kirksville Daily Express, Mo.
McClatchy-Tribune News Service