Pa. fentanyl overdoses surge; price of antidote triples
Some departments pay over $100 per shot of Narcan; certain overdoses may require multiple treatments
---
By Sam Wood
The Philadelphia Inquirer
PHILADELPHIA — Fatal overdoses involving the powerful synthetic painkiller fentanyl have surged more than 600 percent in Philadelphia during the last three years, city officials said Friday. Illicit use of the prescription opioid was implicated in 184 deaths in 2015, up from 25 in 2013.
"Clearly, we have an epidemic of overdoses in Philadelphia involving this drug fentanyl," said Health Commissioner Tom Farley at a Friday news conference.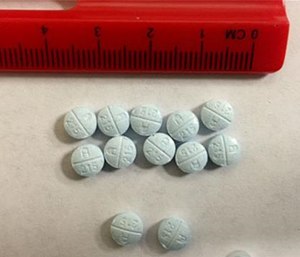 At the same time, the price of the antidote for overdoses of opioids such as fentanyl has skyrocketed.
In 2013, a dose of Narcan cost the city $13.34. Last year, the cost soared to $37.82.
"It's a drastic increase and that's the government rate that we pay," said Jeremiah Laster, Deputy Commissioner of Emergency Medical Services. "There are other departments in the country that pay more than $100 a dose for Narcan."
In hospitals, fentanyl is an effective painkiller used in operating rooms. Many Americans use it to manage severe chronic pain. Though overdoses on legally prescribed fentanyl are not common, the death of musician Prince in April was attributed to the drug.
On the street, illicit fentanyl is often added to heroin to boost the drug's potency. According to the Drug Enforcement Administration, fentanyl is 25 to 50 times more powerful than the equivalent amount of heroin.
"Users are often using this drug unaware how potent it is, putting them at greater risk for overdose," said Arthur Evans, the city's behavioral health commissioner.
The city has been issuing alerts about fentanyl since 2006.
"This has been a significant issue that has happened over the last decade with increasing frequency," Evans said.
In Philadelphia, the number of all fatal drug overdoses has risen dramatically, spiking from 458 in 2013 to 701 last year.
"That means we more than twice as many overdose deaths as we had deaths from homicide," said Farley.
Many emergency services workers carry a supply of Narcan, a medicine able to reverse the effects of an opioid overdose. Last year, EMTs in Philadelphia administered 3,035 doses.
Not all overdose victims immediately respond to the antidote, Laster said.
Due to fentanyl's strength, EMTs often need to use more than one Narcan dose to bring a drug user back from the brink of death.
Copyright 2016 The Philadelphia Inquirer