2 brothers pulled from abandoned Minn. pool, one critical
Paramedics waded into the pool full of "murky, filthy water with a lot of trash" and groped blindly for the boys
---
By Dan Browning
Star Tribune
MINNEAPOLIS — A young boy was in critical condition Monday after firefighters pulled him and his brother from about 6 feet of filthy water in an abandoned swimming pool in St. Paul.
The boys, both believed to be younger than 10, were taken to area hospitals.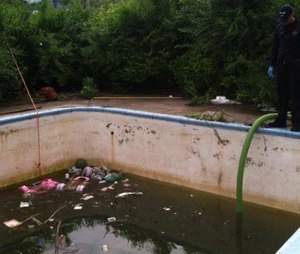 The older boy is expected to recover fully, but the younger brother was in critical condition at Gillette Children's Specialty Healthcare, said Steve Zaccard, spokesman for the St. Paul Fire Department.
Paramedics responded to the call for help about 2:30 p.m. at the pool at 1221 Arundel St.
Apparently, the older boy saw his brother struggling for help and jumped in the water to save him before he also became in distress, Zaccard said.
When paramedics arrived, they found the pool full of "murky, filthy water with a lot of trash," he said.
It hadn't been used in at least two years and was located behind a 5-foot chain-link fence with a locked gate.
Paramedics waded into the pool and groped blindly for the boys, eventually bumping into them with their feet, Zaccard said.
The boys were pulled from the water and rushed to the hospitals.
Firefighters spent a couple of hours on the scene and drained the water to keep anything like this from happening again.
Zaccard said he didn't know what the rules are about abandoned pools.
"I think that's a state Health Department [question]," Zaccard said. "It's in their wheelhouse."
———
©2015 Star Tribune (Minneapolis)