FDA approves 1st generic glucagon injections for severe hypoglycemia
The glucagon comes in a 1 mg vial as part of an emergency kit
---
By Laura French
WASHINGTON — The Food and Drug Administration recently approved the first generic of glucagon for injection to treat severe hypoglycemia. 
Amphastar Pharmaceuticals' 1 mg/vial glucagon for injection emergency kit was determined by the FDA to be therapeutically equivalent to Eli Lilly's Glucagon Emergency Kit, according to an Amphastar press release. Amphastar plans to launch the emergency kits in early 2021.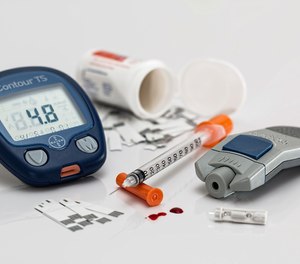 "Glucagon for injection has been approved for use in the U.S. for more than 20 years, but until today, there has been no approved generic of this important drug that can save lives of people who may experience the serious condition of very low blood sugar," Sally Choe, Ph.D., director of the Office of Generic Drugs in FDA's Center for Drug Evaluation and Research, said in a statement in December. "Today's approval reflects the FDA's continued commitment to advancing patient access to lower-cost, high-quality generic drug products that are as safe and effective as their brand name counterparts. Supporting development and expanding opportunities to bring generic copies of complex drugs, like glucagon, to the market has been a major focus of our efforts to improve competition and help lower drug prices." 
The FDA maintains a list of off-patent, off-exclusivity drug products without an improved generic to improve transparency and encourage the development and submission of applications for drugs with limited competition. The FDA also prioritizes the review of submissions for drugs for which there are fewer than three approved generics. 
Read more: Patrick Lickiss outlines five things EMS providers need to know about diabetic emergencies.