Wash. city ends orders requiring COVID vaccines for first responders
Members who were previously terminated over the rule have the option to reapply for a position at the department
---
Paige Cornwell
The Seattle Times
REDMOND, Wash. — Redmond firefighters and paramedics will no longer be required to be vaccinated against COVID-19 to work in the Eastside city.
The firefighters who lost their jobs for not complying with the state's 2021 coronavirus vaccine mandate won't be getting their jobs back as a result, however. The city says the former firefighters have the option to apply for a job, regardless of their vaccination status — but currently there are no open positions in the department.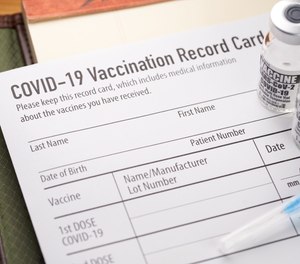 Redmond Mayor Angela Birney this week terminated two executive orders that mandated firefighters and paramedics be vaccinated against COVID, echoing decisions by King County and the city of Seattle to no longer require proof of vaccination for employees.
The change "is in keeping with up-to-date recommendations from public health officials," Birney wrote in her termination order.
Nine Redmond fire department employees left their jobs because of the vaccine mandate, according to city documents. Under Gov. Jay Inslee's vaccine mandate, thousands of state employees and those in health care settings, which included firefighters, paramedics and EMTs, were required to be vaccinated by an October 2021 deadline. The vast majority complied.
Those restrictions were lifted a year later, but Birney issued a second executive order that continued the city's vaccine requirement for firefighters and paramedics.
The group of Redmond firefighters facing termination were among the most vocal in their resistance to the orders. They often cited their experiences of being among the first to respond to the COVID pandemic in early 2020, when Redmond firefighters assisted other departments with calls from Life Care Center of Kirkland, the site of the first confirmed COVID outbreak in the U.S.
As of Sept. 30, the city has spent $2.87 million in unbudgeted overtime costs to backfill for the nine positions, according to city documents.
King County Executive Dow Constantine, in a Monday release, cited "high level of vaccination booster uptake and lower levels of community spread," and that hospitalizations because of COVID remain at a "safe level."
Nearly 90% of King County residents ages 18-64 have received their primary vaccination series, though most have not had an updated booster, according to the county.
___
(c)2023 The Seattle Times
Visit The Seattle Times at www.seattletimes.com
Distributed by Tribune Content Agency, LLC.
McClatchy-Tribune News Service