New Orleans mayor announces contract to expand EMS services
As the Delta variant increases COVID-19 numbers, more children are requiring hospitalization than during the 2020 surge
---
By Kerri Hatt
NEW ORLEANS — A resurgence in COVID-19 cases due to the Delta variant has hit New Orleans so hard that the city's EMS doesn't have the capacity to handle 911 calls, Mayor LaToya Cantrell said at a recent news conference, announcing a contract to increase EMS resources. "We currently do not have the capacity to respond to 911 calls that come from our community right now," Cantrell said.
New Orleans Communications Director Beau Tidwell told WGNO, when it became clear they didn't have the staff to meet their needs, "We were in a situation that we needed to bring on additional bandwidth or additional capacity ... we immediately moved to contract out to Acadian is I believe who we reached out to."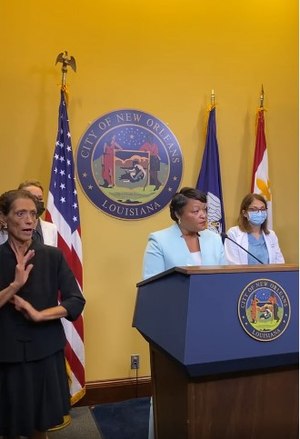 About 37% of Louisiana's population is fully vaccinated, and CDC data shows the state's seven-day death rate of 1.7 per 100,000 people is the third-highest in the nation, behind Nevada and Arkansas.
Dr. Emily Nichols, NOLA EMS director, told WGNO, "In addition to more people calling 911 about their fears for COVID and their other concerns that aren't related to COVID are really adding a burden on to us at this time."
Staffing levels cannot keep up with the demand.
"Some have chosen to go work inside of hospitals, some have left medicine altogether because of the ongoing stress that this fatigue has brought to all healthcare workers," Nichols stated.
Mayor Cantrell noted children are falling victim to the increasing COVID-19 numbers. According to a CNN report, Our Lady of the Lake Children's Hospital in Baton Rouge, Louisiana, is experiencing a spike in Covid-19 cases twice as high as what they experienced during the 2020 surge.
Hospital President Dr. Trey Dunbar, told CNN, "We've seen over the past couple of weeks a pretty dramatic increase. A good number more of children are requiring hospitalization." Dunbar reported about 8-12 patients are being admitted per day, with about 50% of those patients going to the ICU.
"This is a very dangerous number," Cantrell said. "Our children are dying. From two weeks old to two years old to four years old. You cannot make it up. Our children are dying."
Mayor Cantrell has implemented a vaccine mandate for city employees, as well as a mask mandate, effective immediately, that applies to indoor settings and large outdoor crowds.
Tidwell encouraged the community to support public health efforts, "What you can do for our first responders to help them in this time of extreme strain is to get vaccinated, that will help them in 6 weeks. What you can do right now to help them is wear a mask and maintain social distance."