EMTs begin door-to-door virus screenings in major cities
The New Orleans-based company Ready Responders have begun performing tests at homes in cities including New Orleans, New York, Las Vegas and Washington D.C.
---
By Laura French
NEW ORLEANS — EMTs from a New Orleans-based company have begun conducting door-to-door COVID-19 tests in major cities across the United States.
Home healthcare company Ready Responders is collaborating with cities including New Orleans, New York, Las Vegas, Reno and Washington D.C. in order to help officials determine the true impact of the virus, according to NPR.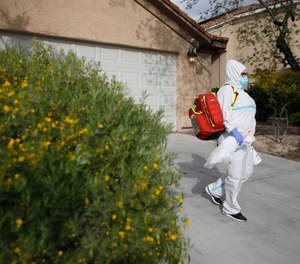 A pilot program which began in New York City two weeks ago offers quick home tests for residents in eight public housing communities, many of whom don't have access to transportation or a primary care physician to get tested themselves. 
"We wanted as many New Yorkers to be tested as possible," a spokesperson for Mayor Bill de Blasio's office told NPR. 
Ready Responders EMT Mayelyn Rojas, 24, who is part of the testing effort in New York, said many residents say they have never been offered tests before. 
Results from the tests are available within a few days, and Rojas said the company has received "non-stop" requests from people who want to be tested in their home. She says she expects to perform at least 25 tests per week. 
Ready Responders is planning to begin at-home testing in Los Angeles later this month.