Texas city renews exclusive ambulance service contract
Under a nine-month contract, the South Texas Emergency Care Foundation must increase the number of ambulances it stations in Harlingen
---
Fernando Del Valle
Valley Morning Star
HARLINGEN, Texas — After months of debate, commissioners are giving the city's ambulance company a chance to provide residents with better non-emergency service.
Meanwhile, the nine-month contract allows the South Texas Emergency Care Foundation to hold on to its exclusive rights agreement to provide ambulance service within the city limits.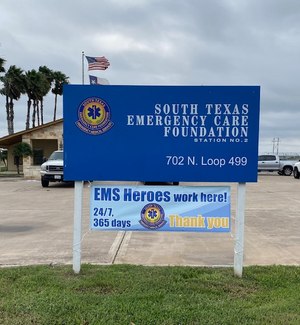 After weeks of negotiations, commissioners late last month finalized the new agreement, more than a week before STEC's five-year contract expired on Friday.
As part of the new contract, STEC has agreed to boost the number of ambulances it stations within the city limits from three to as many as six, Mayor Norma Sepulveda said Monday.
"I think they are going to improve on the quality of service the community deserves," she said. "This is an opportunity for us to move forward with some issues the community has bought up."
'Holding STEC accountable'
In August, a nursing home administrator joined some residents who complained of what they described as STEC's slow response times to calls for non-emergency transports to such locations as doctors' offices and dialysis centers.
"We're looking to make improvements to meet the expectations of the community," Sepulveda said.
For weeks, Commissioner Rene Perez debated allowing outside ambulance companies to help STEC provide non-emergency transport service.
On Monday, he said commissioners would allow an outside ambulance company to help provide the service if STEC's fails to boost its response times.
"This is a compromise," Perez said, referring to the new contract. "We're going to hold STEC accountable to meet these metrics. We're going to give them a chance to see it they can handle it. I'm rooting for STEC — that would be good for Harlingen. If they can't succeed, we're going to bring in someone to help them out. When it comes down to it, I want the citizens of Harlingen get their needs met."
Exclusive rights agreement
In response to the push to allow outside companies to help provide non-emergency transports, STEC officials have argued the lucrative service helps them fund emergency ambulance runs.
If competition eats into the company's revenue, officials warned they could return to charging the city as much as $395,000 a year to help fund EMS services.
"I'm not ready to open Harlingen up," Sepulveda said. "We've had a very long agreement with STEC, and I feel they should have this opportunity."
For about 10 years, the city has granted STEC exclusive rights to provide emergency and non-emergency transport services after the company stopped charging about $395,000 a year to help fund EMS operations.
Instead, the company began charging its patients.
As part of STEC's contract, the city backs the company's exclusivity clause with a city ordinance granting police the power to warn or cite outside ambulance companies entering the city limits.
Across the state, the cities of Arlington, Waco and Wichita Falls along with the counties of Wichita Falls and Rockwell offer their EMS services exclusive contracts, STEC officials have said.
Last year, during months of heated debate, members of the city's past commission were considering scraping STEC's exclusive rights clause to allow other companies to offer non-emergency transport service.
Stationing more ambulances in town
As part of new contract, STEC's agreed to station more ambulances within the city limits, a move aimed at helping speed response times.
For years, the company's stationed three ambulances in Harlingen.
Now, the company is stationing as many as five ambulances Mondays while boosting the local fleet to six ambulances Tuesdays through Saturdays, Sepulveda said.
Meanwhile, STEC agreed to station three ambulances on Sundays, Perez said, adding calls for non-emergency transports drop off Sundays.
Background
To offer the city backup ambulance service, STEC has entered into agreements with other regional emergency medical services companies, company officials said.
Meanwhile, STEC's ambulances average emergency response times of 8 minutes and 51 seconds, they said.
In 1979, city leaders founded STEC to provide ambulance service in town.
Today, the nonprofit provides ambulance service to several cities across most of Cameron County, including San Benito.
About five years ago, STEC boosted its rates to range from $795 for basic life support to $1,220 in the area where about half its patients are on Medicare and Medicaid, which reimburses about a third of billings, company officials said.
___
(c)2022 Valley Morning Star
McClatchy-Tribune News Service