Calif. FD files protest after panel says ambulance service contract will go to AMR
Santa Barbara County must respond following the protest and AMR's response
---
By Leila Merrill
FireRescue1/EMS1
SANTA BARBARA COUNTY, Calif. — A request for proposals pitted the area's ambulance service of more than 50 years, AMR, against the aspiring provider of emergency services, the county fire department.
A county panel chose AMR over the Santa Barbara County Fire Department by ranking its proposal higher, Noozhawk reported. The contract is expected to go to the board of supervisors next year for approval.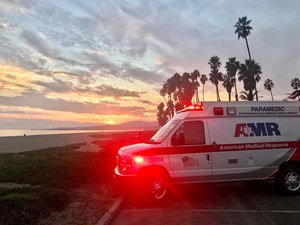 This is the first time the county participated in a public bidding process.
Santa Barbara County Fire Chief Mark Hartwig filed a protest letter several days after Santa Barbara County issued a notice of intent to award the contract to AMR on Oct. 28. Pamela Johnston, attorney for AMR, filed a response to the protest this month.
The county has 15 business days to respond.
Hartwig said AMR's responses in clinical performance management and clinical innovations sections "fail to provide for full and fair competitive bidding upon a common standard, the competitive process must be thrown out and the county cannot award the contract to AMR," his protest letter states.
AMR meets the qualifications, and SBCFD's protest arguments "lack merit," AMR said in its response filed on Nov. 10.
"The five independent evaluators here recognized the difference in experience, capabilities and the quality of the bids and awarded AMR 317.75 points more than County Fire received. AMR is the better-suited provider and was awarded the contract. None of County Fire's arguments in its protest is persuasive or legally valid," the response from AMR reads.