Tenn. county EMS donates $5.8K from pink shirt campaign to cancer center
The pink shirts became the EMS staff's official uniform during October to promote breast cancer awareness
---
By EMS1 Staff
HAMILTON COUNTY, Tenn. — A Tennessee county EMS has donated the proceeds from its breast cancer awareness campaign to a center that helps those with the disease.
Hamilton County EMS (HCEMS) handed over a check to the Sarah Cannon Cancer Center in Chattanooga this month for $5,823 it raised through purchasing, wearing and selling pink T-shirts throughout October, which is National Breast Cancer Awareness Month.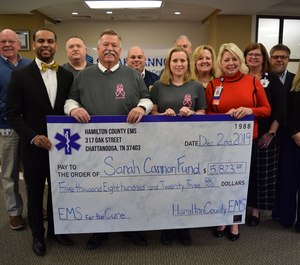 The T-shirts were worn by HCEMS staff as part of their official uniform throughout the month in order to spread awareness about the disease and the campaign, according to a Hamilton County press release.
"I am very pleased with the efforts and involvement of the Hamilton County Emergency Medical Services leadership and staff, as well as the ParkRidge Hospital management and personnel, working together for this critical cause," said HCEMS Committee Chairperson Bob Williams.
The fundraiser was the service's fifth annual breast cancer awareness event. The donation to the Sarah Cannon Cancer Center will go toward research, and assisting those with breast cancer and their families.