CPR shuffle: The life-saving playlist you need
Every song on our list falls within the recommended 100 to 120 bpm range to perform CPR
---
Just like a good beat is required to properly dance, a steady rhythm is necessary when performing CPR. While "The Office" helped make the song "Staying Alive" a popular life-saving soundtrack, you might be getting tired of the Bee Gees. For a change of pace, we've compiled a list of songs ranging from 100 to 120 bmp, the recommended range to perform CPR.
Do you have a go-to song you hum when you're administering compressions that we don't have? Let us know in the comments and we'll add it to our list.
Read next: 5 steps to delivering high-quality CPR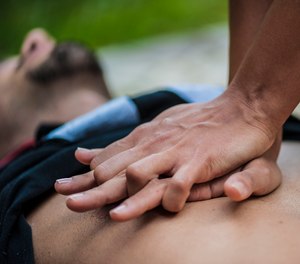 The CPR Shuffle
Add these songs to your music library, or listen with our Spotify playlist below. 
1. "Glory Days" – Bruce Springsteen: 117 bpm
2. "The Real Slim Shady" – Eminem: 105 bpm
3. "Bad Romance" – Lady Gaga: 119 bpm
4. "Purple Rain" – Prince: 113 bpm
5. "Billie Jean" – Michael Jackson: 117 bpm
6. "Rumor Has It" – Adele: 120 bpm
7. "Rock Your Body" – Justin Timberlake: 101 bpm
8. "Smells Like Teen Spirit" – Nirvana: 117 bpm
9. "Courtesy of the Red, White and Blue" – Toby Keith: 112 bpm
10. "All Star" – Smash Mouth: 104 bpm
11. "Everybody (Backstreet's Back)" – Backstreet Boys: 108 bpm
12. "I Wanna Dance With Somebody" – Whitney Houston: 119 bpm
13. "Eye of the Tiger" – Survivor: 109 bpm
14. "Ring of Fire" – Johnny Cash: 105 bpm
15. "Ice Ice Baby" – Vanilla Ice: 116 bpm
16. "Monday Morning" – Fleetwood Mac: 106 bpm
17. "Baby Shark" – Pinkfong: 115 bpm
18. "Gettin' Jiggy Wit It" – Will Smith: 108 bpm
19. "Country Girl" – Luke Bryan: 106 bpm
20. "Can't Stop the Feeling" – Justin Timberlake: 113 bpm
---

Read next:
How to care for lay responders who perform CPR
Diffusing and debriefing lay responders can mitigate traumatic stress and reduce the risk of post-traumatic injury from the experience of performing CPR
---
This article, originally published in July 2022, has been updated.