Nev. responders ready mobile hospital for Burning Man
The satellite hospital, called Rampart, includes 300 employees and is expected to treat nearly 3,200 people during the week-long remote desert festival
---
Modern Healthcare  
WINNEMUCCA, Nev. — When 68,000 or so participants converge on Nevada's Black Rock Desert this week to get the Burning Man fire arts gathering raging, things could get weird. They usually do.
And if anyone ends up getting hurt or ill—what with the displays of art pieces using flames and pyrotechnics; the interactive art installations, like last year's Astroturf slide; the clothing-optional policy; and the punishing desert weather—employees of Humboldt General Hospital will be there to help.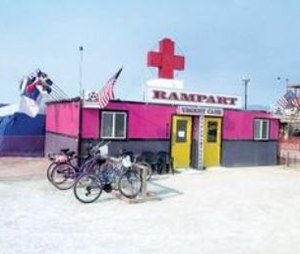 The 52-bed hospital in rural Winnemucca, Nev., holds the long-term contract to provide medical services to the artists, partiers, hipsters and nonconformists who gather each August on about five square miles of federally owned land to camp, express themselves and build an anti-establishment community they call Black Rock City. Last year, Burning Man organizers spent $455,024 on medical services and supplies, according to a budget posted on the group's website.
Because the site has no infrastructure, Humboldt sets up a satellite hospital, called Rampart, and coordinates the 300 employees — from groundskeepers to EMTs — who are on standby to treat the nearly 3,200 expected illnesses and injuries. The hospital sends two or three of its attending physicians and also brings aboard emergency medicine residents from elsewhere in the state. Eight ambulances are on-site.
Louis Mendiola, the hospital's wellness coordinator, said conditions range from primary-care issues such as urinary tract infections and lacerations to broken bones and drug and alcohol abuse. And Burning Man has a least one unique malady: playa foot. Walking without socks and closed shoes in the alkali desert can cause a chemical burn that leads to dry, cracked feet.
The mobile facility is also a "deployable resource" for the hospital to use for other healthcare crises, such as flu season, Mendiola says, though none quite as pyrotechnic.