Ind. county looking at increasing wages for local dispatchers
The move, pending an August meeting of the board prior to budget approval, would reduce the number of active dispatching positions from 16 to 14
---
Quentin Blount
Pharos-Tribune, Logansport, Ind.
LOGANSPORT, Ind. — Fourteen public safety dispatchers with Cass County E-911 are likely to soon get unexpected pay raises.
At a special meeting of the Cass County E-911 Board on Monday, Logansport Mayor Dave Kitchell, Police Chief Rob Smith and members of the Cass County E-911 Board voted to reduce the number of dispatching positions in order to raise the salaries of the current dispatchers.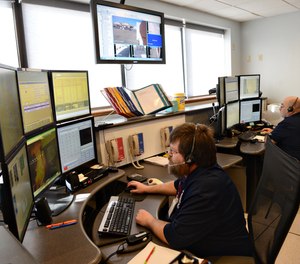 The move, pending an August meeting of the board prior to budget approval, would reduce the number of active dispatching positions from 16 to 14. According to the mayor's office, the move does not cost any current employee a position and will be part of a realignment that will increase starting salaries to more than $30,000 for local dispatchers.
"As is the case with many industries and public safety, wages are going up and we have to keep up with the market for people who can perform these jobs," the mayor said. "We are currently not at full staff and this is a way we can increase salaries without busting our budgets in order to maintain some fiscal sanity."
Each emergency in Cass County begins with a 911 call received by a headset-clad dispatcher before an array of computer monitors in a downtown Logansport office. Their job is to collect information, often from panicking callers, before determining what kind of help to send.
Cass County E-911 dispatches for over 20 agencies, including five law enforcement, 11 fire, two EMS, animal control, Cass County Government Building security and an emergency management agency while maintaining regular contact with the Indiana State Police and Indiana Department of Natural Resources.
Dispatcher salary comparisons indicate Cass is well below comparable counties in salaries, but has as many or more funded dispatching positions.
The city and county have seen police officers and dispatchers leave the force to find better pay at other agencies. They hope this move will prevent further loss of trained emergency personnel.
Reach Quentin Blount at quentin.blount@pharostribune.com or 574-732-5130.
———
©2019 the Pharos-Tribune (Logansport, Ind.)
McClatchy-Tribune News Service