Pa. hospital to create registry of AED locations
The registry is being created in coordination with the Berks County Department of Emergency Services
---
David Mekeel
Reading Eagle, Pa.
West Reading, PA — When you're dealing with cardiac arrest, every second counts.
The first three to five minutes can mean everything. Access to an automated external defibrillator (AED) during that time can mean the difference between life and death.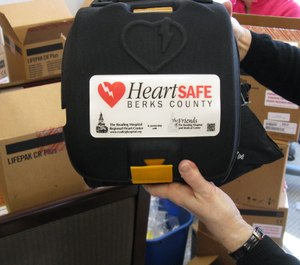 It's why, back in 2010, The Friends of Reading Hospital threw its financial support behind HeartSAFE Berks, an effort to place an AED in every emergency vehicle in Berks County. That program has since expanded to include schools and stadiums and colleges and all sorts of other places where people gather.
The result is more than 600 of the life-saving devices scattered around the county.
On Monday, at an event inside Reading Hospital, the latest expansion of the program was announced. In order to make sure the AEDs are put to effective use, a countywide registry of them is being created.
"This life-saving measure can only be there if the AEDs are there for use," said Bill Jennings, hospital president.
The first phase of the registry project will notify people in charge of registered devices when a cardiac arrest event is taking place nearby. They will be alerted by the county 9-1-1 center as a call comes in.
"If you are within 1,200 feet, you can take your AED to that event," said Mary Ellen Batman, president of The Friends of Reading Hospital.
The second phase of the project will provide emergency personnel with a complete list of where to find registered devices.
The registry program should allow even more people access to AEDs in their time of need. Which is exactly why HeartSAFE Berks was created.
Reading Hospital cardiologist Dr. Michael Koslow said the AED program got its start back in July 2005 when a resident at the hospital collapsed during a soccer game less than a mile from the hospital. There were several doctors on the field with him who performed CPR, but no AED in sight.
The man did not survive.
"His passing changed our lives forever," Koslow said.
Koslow started doing some research, discovering that police were the first to arrive at reports of cardiac arrest about 70% of the time in Berks. But only 28% of their vehicles were equipped with AEDs.
"In Berks County, we needed to do a better job," he said.
He presented a plan to The Friends of Reading Hospital to place AEDS in 240 emergency vehicles. They jumped in feet first, funding it all and installing every one within a month.
"It's made a difference," Koslow said. "There's a list too long of people who have survived cardiac arrest because of placement of these devices. We've met these people, we've met their families, we've met their parents."
The registry is being created in coordination with the Berks County Department of Emergency Services. County Commissioner Christian Y. Leinbach lauded the newest expansion of the program.
"An AED is only as valuable as the people who know it's there, that it exists," he said.
Leinbach said that last year the county had 2,965 calls for people unconscious or in cardiac arrest. By knowing where the closest AED is located, people like them may now get help quicker.
And that could save their lives, he said.
"At the end of the day, that's what it's about — people," he said.
Individuals who wish to register their AEDs with the new countywide system can do so by visiting www.berkscountyaedregistry.com. It is free to register, and those who do will receive vital information including reminders to change batteries or updates on when new pads are needed.
———
©2019 the Reading Eagle (Reading, Pa.)
McClatchy-Tribune News Service