One step to improve health equity in communities
Urge your representatives to pass the Prevent Bleeding Act, to expand access to bleeding control kits
---
By Brian LaDuke
May is an important month in health and safety awareness. In addition to National EMS week, May 20, 2021, marked an important day for not only emergency responders, but citizens across the country. May 20 has been designated as "Stop the Bleed" day, part of a nationwide effort this month to empower civilians to save lives with basic training to treat excessive bleeding.
The primary cause of preventable trauma death in the U.S. is uncontrolled bleeding. A person who is bleeding can die from blood loss within five minutes, therefore it is important to quickly stop the blood loss. While it is often easy to have the illusion of immunity when we think of tragic events, in the event of mass casualty incidents or shootings, a car accident, a playground mishap or a natural disaster, it is crucial for everyone to be prepared. No matter how rapid the arrival of emergency responders, bystanders will always be first on the scene.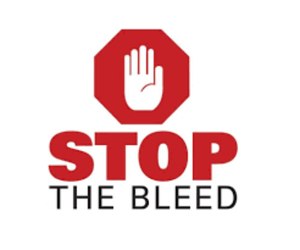 "Bystanders can take simple steps to keep the wounded person alive until proper medical care is available," says Dr. Michael Dailey, chief, Division of Prehospital and Operational Medicine, at Albany Medical College. "The more people who know how to control life-threatening bleeding, the better the chances that injured people will survive."
The National Academies of Sciences, Engineering and Medicine, every year, reports that up to 20% of trauma deaths could be prevented with early hemorrhage control.
What steps can we take to make this happen? First, citizens can receive training, often at no cost. The Stop the Bleed campaign was initiated by a federal interagency workgroup, and their website is a great starting point. Various network sites are often able to teach the skills session virtually. For EMS professionals, Bound Tree University, an education hub for EMS, is a valuable resource. First responders can access training resources to assist their communities with education on bleeding control. Bound Tree Medical has been a leader in bleeding prevention efforts within the EMS community, assisting dozens of private and government organizations with the proper preparedness and capabilities.
For equitable resource availability, Congress should act. Bipartisan efforts to help provide states with funding to expand access to bleeding control kits in public places in communities around the country have stalled. Contact your representative and urge them to pass the "Prevent Bleeding Act," which will expand access to bleeding control kits.
Five minutes can mean the difference between life and death. By treating life-threatening hemorrhaging, bystanders can play a major role in the increase of patient survival. Communities across the country should have access to these life-saving supplies in cases of emergencies.
About the author
Brian LaDuke serves as the president of emergency preparedness for Sarnova, Inc., based in Dublin, Ohio.
Bound Tree Medical, a Sarnova company, has been a leader in bleeding prevention efforts within the EMS community for over 42 years.
Dr. Dailey was the recipient of the Medical Director of the Year Award in 2019 by the National Association of Emergency Medical Technicians (NAEMT).