Neb. ambulance destroyed after catching fire on call
Officials said a Medics at Home ambulance was transporting a patient when the EMS provider noticed smoke and got the patient out before it burst into flames
---
By EMS1 Staff
BENNINGTON, Neb. — An ambulance was destroyed after catching fire while on a call.
KETV reported that a Medics at Home ambulance was transporting a patient when the EMS provider driving the rig noticed smoke.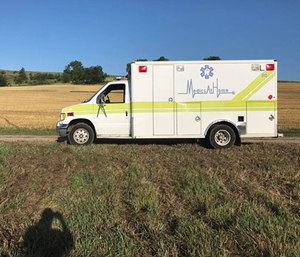 Officials said the EMS provider got the patient out of the ambulance before it burst into flames.
According to police, the EMS provider said the ambulance had previously had electrical issues that the agency thought were resolved.
No one was injured in the blaze. Officials said the fire was mechanical and is not considered suspicious.
The patient was transported to the hospital by another ambulance.