New app helps EMS providers assess stroke severity
The Stroke Scales for EMS app is designed with scales to measure physical indicators that can determine if the patient is having a large vessel occlusion
---
By EMS1 Staff
FAIRFAX, Va. — A new app was designed for EMS providers to help them determine the severity of a stroke in emergency situations.
The Stroke Scales for EMS app, created by the Get Ahead of Stroke campaign, is meant to help EMS providers assess stroke severity so they can triage patients quicker and get them the help they need.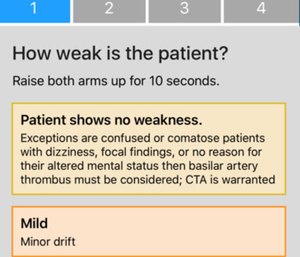 "Stroke is a leading cause of death and disability nationwide," Society of NeuroInterventional Surgery President Dr. Blaise Baxter.  "This app will help first responders quickly and accurately identify cases of severe stroke so they can transport patients to appropriate treatment right away."
The app utilizes "stroke scales" that measure certain physical indicators that could determine if a patient is having a large vessel occlusion, such as the ability to control eye movement, squeeze and release a hand and feel a pin prick. The app uses the results to recommend what type of facility the patient needs to be taken to.
The app is available for download on the iOS app store and Google Play.