United Hatzalah debuts innovative electric 'Mini-Lance'
The compact electrical Smart car allows two responders to travel with a full complement of medical equipment
---
By EMS1 Staff
JERUSALEM — United Hatzalah introduced an innovative compact apparatus fully equipped to provide aid to emergency victims.
The newest vehicle added to United Hatzalah's fleet is the "Mini-Lance," a compact electrical Smart car that allows two EMS providers to travel through metropolitan areas for fast response.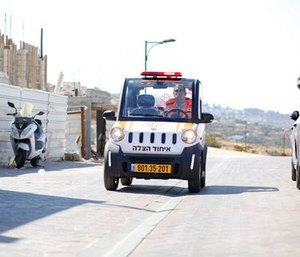 The vehicle will have the full range of medical equipment appropriate for the responder on the call.
The "Mini-Lance" is the first electric response EMS vehicle for urban areas and can travel over 60 miles without recharging.
"United Hatzalah is always looking to cut down our response times and enable our volunteers to reach the people in need of medical help faster. This vehicle allows us to do that in densely populated urban areas," United Hatzalah president Eli Beer said. "When thinking about the next wave of innovation in the field of EMS we have to look one step further than that as well. While arriving at the patient quickly is our main goal cutting down on our carbon footprint is also very important as is providing an alternate option to big bulky ambulances on congested city streets and freeways with less of a carbon footprint than our ambucycles. The Mini-Lance allows us to achieve all of these goals simultaneously and hence, is our next step in providing fast EMS response in dense urban areas."