Pa. EMS agency launches 'One Breath from Death' campaign
The service will begin asking overdose patients for their preferred funeral home should they not survive their next overdose
---
By EMS1 Staff
JOHNSTOWN, Pa. — An EMS agency has taken a new approach to handling overdose victims, aiming to curb repeat offenders.
West End Ambulance Service stated they will soon begin asking overdose patients for their preferred funeral home should they not survive their next overdose.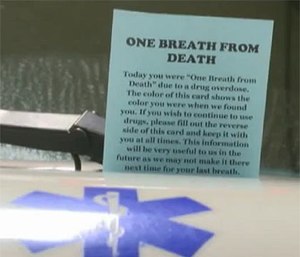 Personnel will issue blue cards — to match the color an overdose victim turns — to serve as a warning of how close a patient came to dying. The card reads, "Today, you were 'One Breath from Death' due to a drug overdose."
The card also requests that patients fill out the card if they plan to continue using drugs, as "we may not make it there next time for your last breath."
Patients can also fill out the back of the card with their name, emergency contact and name of a preferred funeral home. 
"If I can get something across to a kid, or to someone we bring back from an overdose, to get them to realize how serious this is, I'll do it," Ira Hart, the agency's manager, told the Cullman Times. "I'm giving them a shot of reality. You were one breath from death."
Hart said he plans to create an educational program on the realities of the heroin epidemic. 
"I'll take it to schools. I'll take it everywhere," Hart said. "They need to realize how bad it really is."