NC county limits rigs sent to some calls amid fuel shortage
Greene County EM Coordinator David Lancaster said gas stations and the community have been supportive in prioritizing first responders
---
By Laura French
GREENE COUNTY, N.C. — North Carolina county emergency services officials say they have had to make some changes to conserve fuel amid the shortage caused by the Colonial Pipeline cyberattack last week.
Greene County Emergency Management Coordinator David Lancaster told WITN that the county's EMS and fire departments have been limiting travel and the number of rigs sent to some calls in order to conserve fuel, but that gas stations and the local community have been accommodating.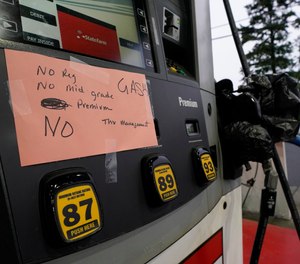 Lancaster said the county has agreements with the school system and public works department to have on-site tanks that can be used to fill up emergency vehicles, but that crews have not had the need to use those yet. Lancaster also said that gas stations have reached out to public safety officials to ensure that first responders are prioritized during the shortage. 
"Fortunately they have consideration for emergency services," Lancaster told WITN.
Lancaster said the county owns three ambulances that use about 300 gallons of gas per day. He added that county emergency services are preparing for hurricane season and asked that members of the public not hoard gasoline, which can hinder the supply for first responders.