Ga. county to extend contract with troubled ambulance provider
DeKalb County officials will vote to extend the contract with AMR, which continues to face criticism over its performance
---
By J.D. Capelouto
The Atlanta Journal-Constitution
DEKALB COUNTY, Ga. — For the third time, DeKalb County is set to extend its contract with an ambulance provider still facing complaints about slow service.
Since May, the county has been in the process of selecting a new ambulance company to respond to emergency calls. In the meantime, the county is contracting with American Medical Response, which continues to face criticism over its performance, minutes slower than county guidelines.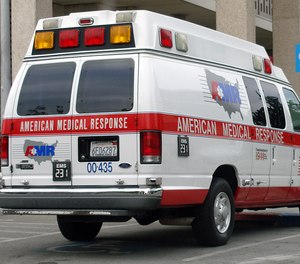 The current AMR contract was first extended from January to June, and then again through September. The county commission is expected to vote Tuesday on whether to extend the contract until Dec. 30, 2019.
"It would be an understatement to say that I'm furious," said Commissioner Nancy Jester, who has become frustrated regarding the procurement process. She said the board of commissioners has not received any information about why it has taken this long. "It's all opaque to me."
Earlier this year, the county announced it was looking to rebid its ambulance contract to one or more companies. As questions about AMR's service linger, the provider was one of three companies that submitted a proposal for the future contract. An evaluation committee was tasked with reviewing the proposals.
DeKalb has not provided much public explanation as to why the county's selection process has taken several months. At a public safety committee meeting Tuesday, County Attorney Viviane Ernstes said it was due to "important business and legal matters that we need to conclude." She did not elaborate.
She said the committee would wrap up its work by the end of the year, but could not provide a more specific estimate on timing.
Commissioner Lorraine Cochran-Johnson, who sits on the public safety committee, said the county is in a "precarious situation" because of the "noted issues" DeKalb has seen with its current provider. But because a future provider has not been selected, she said, the county would essentially be left without an ambulance service if it does not extend the AMR contract.
"It's never a good idea to do contract extensions, but in a situation like this, there's no choice," Cochran-Johnson said after Tuesday's committee meeting.
Under the agreement with AMR, patients pay $1,725 for the "advanced life support" calls, which are life-threatening emergencies. Patients pay $1,453 for less serious calls. For each mile residents ride in an ambulance, they are charged $29.50.
The future ambulance provider, the county said, must agree to minimum response times, such as arriving to at least 90% of high-priority calls within 12 minutes.
For the second quarter of 2019, AMR's response time to 90% of calls was about 17 minutes, according to a chart passed out during Tuesday's meeting.
Last November, DeKalb entered into an agreement with the city of Dunwoody, committing to stricter response times for ambulance services there: nine minutes for 90% of the "advanced life support" calls.
The latest data for Dunwoody shows AMR responded to 90% of those calls in about 13 minutes, 45 seconds in August.
In a statement, Terence Ramotar, the regional director for AMR Georgia, said the company values its relationship with DeKalb and has made "great progress."
"For example, in the month the August, AMR had an average response time of 10 minutes countywide. Through the series of three-month extensions that have been granted to AMR including the potential vote by the DeKalb County Board of Commissioners next week, we have remained committed to working with county and local fire, police and other officials to deliver a world-class EMS system for the residents of DeKalb County," Ramotar said.
Terry Nall, a member of the Dunwoody City Council who has strongly criticized AMR, said the latest numbers are "troubling." Dunwoody previously declared that DeKalb County is in violation of its agreement to ensure ambulances arrive on time to emergency calls.
The county, however, said it can sufficiently respond to calls in part because its fire department also responds to emergencies, usually arriving faster than ambulances. All firefighters are also trained as emergency medical technicians, and 14% are licensed paramedics.
When fire department arrivals are factored in, the countywide response times for the second quarter are faster: an average of about seven minutes for the critical calls.
———
©2019 The Atlanta Journal-Constitution (Atlanta, Ga.)
McClatchy-Tribune News Service