Ga. county presents 'revamping' of EMS among complaints about response times
The county is planning to keep the same ambulance provider but improve service in a "re-envisioning" of the EMS system
---
J.D. Capelouto
The Atlanta Journal-Constitution
DEKALB COUNTY, Ga. — DeKalb County should continue to use the ambulance provider that has served the county for six years, despite repeated complaints over slow response times, a county committee recommended.
The county commission on Tuesday heard from DeKalb officials, including CEO Michael Thurmond, about the proposed five-year contract with American Medical Response, which began providing ambulance services to the county in 2013.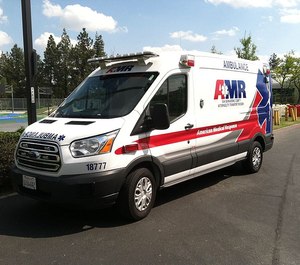 The recommendation caps an eight-month-long procurement process that began when the county asked for bids for a new ambulance contract. AMR was one of two companies judged and scored by an evaluation committee. The commission will formally choose a service at a future meeting.
Some DeKalb residents and officials have criticized AMR over poor ambulance response times. But Thurmond said Tuesday that the proposed new contract with AMR has additional oversight, more detailed response time requirements and specific penalty provisions. The contract that began in 2013, he said, was "poorly constructed, it was almost impossible to enforce."
"We're not where we need to be, but we're a long way from where we started," Thurmond said. "We're going to do a better job of managing and providing oversight to the contract. That's our responsibility."
His presentation to the commission championed the "re-envisioning and revamping" of the county's EMS system. Over the past year, DeKalb has invested more than $5 million in new response units, fire stations and fire department paramedic positions.
Despite the complaints about AMR's service, Thurmond said he is confident they will provide improved service to residents. He said he was encouraged by the county's nearly $1.9 million settlement with AMR from August 2018. The company agreed to pay the county $596,000 in cash and make service improvements valued at $1.3 million.
AMR's previous contract was set to expire at the end of 2018, but the county extended it until the end of this year.
The criticism over the company's response times, AMR and county officials say, don't tell the complete story.
In January, the county implemented a new model that judges response times based on the first emergency response unit that arrives on scene — whether that be a firetruck or ambulance. The latest data released by the county shows that fire department units respond faster on average than AMR ambulances. All firefighters are trained emergency medical technicians, and about 14% are trained paramedics.
AMR Regional Director Terence Ramotar said this system ensures that patients still get medical help if a firetruck arrives before an ambulance.
"The ambulance response is not the singular part of the entire EMS system," Ramotar said. "They've designed this system to have a safety net within a safety net."
But critics like Dunwoody City Councilman Terry Nall said the county should judge response times based on when ambulances, not firetrucks, arrive on scene. Nall said AMR has not shown a notable improvement over the course of this year.
Under the new contract, patients taken to the hospital are charged on an individual basis based on the length and severity of the call. The proposed fee structure for the future contract has not been released.
AMR was recommended by the five-person evaluation committee based on a system that scored criteria including technical approach, project management and financials. AMR scored an 85 out of a total 110, while the other bidder, PatientCare Logistics Service, scored a 78.
The vice president of PatientCare, Jason Sampson, attended Tuesday morning's commission meeting and told the officials that they still have a choice on who to choose as DeKalb's ambulance provider.
"We have a proven track record of success, of embedding ourselves in the community we serve," Sampson said.
Ramotar, meanwhile, said AMR has added additional ambulances at stations around DeKalb and implemented a GPS system that identifies the closest ambulance to an emergency situation when a call comes in.
Commissioners voted to defer the measure for two weeks. They requested a number of documents related to the evaluation process and the proposals from both AMR and PatientCare.
"We still have numerous questions," Commissioner Mereda Davis Johnson said. "So this is an important contract."
———
©2019 The Atlanta Journal-Constitution (Atlanta, Ga.)
McClatchy-Tribune News Service