'EARS' unit provides free ambulance transport to Conn.'s injured pets
The non-profit responds to animal emergencies 24/7 and charges no fees
---
SHELTON, Conn. — There's an ambulance for animals in Connecticut.
The Emergency Animal Response Unit, or EARS, is a volunteer-run service that provides pet CPR, first aid and critical transport on a 24/7 basis.
Recently, EARS acquired an ambulance and redid its layout and equipment to work with animals. According to a recent special by WTNH News 8, Jon Nowinski is the first technician in the state to drive an animal ambulance.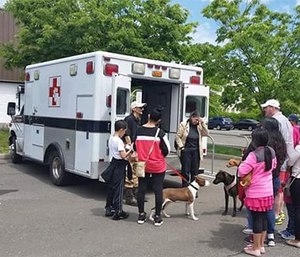 Nowinski says animal emergencies occur more often than you'd think. Dehydration, heat exhaustion, and roadside accidents are just a few typical examples.
In addition to basic certifications in pet CPR and first aid, EARS members train to respond to traumatic accidents, house fires and other natural disasters affecting animals in the area.
Disaster preparedness has been a part of the organization's DNA since they started working in the wake of 2011's Hurricane Irene. It's unclear if any EARS members are certified in emergency medicine, but they claim their extensive emergency training meets FEMA standards in other aspects.
"Team Members participate in several training sessions each month covering everything from handling, triage, transport, emergency response, situation awareness, technical rescue, and other specialty training," reads the official EARS website. The team is also said to work alongside animal teams from the ASPCA, Humane Society, and state disaster response teams.
Despite the advanced care that EARS provides for animals, they don't bill families for their services.

"Our main thing is to be there for the animals," Nowinski said. "We are understand that not everybody can afford an extra thousand dollar bill for transport."

If you would like to donate to EARS, click here.