Dozens of first responders fill N.Y. city council chambers, discuss VFD staffing, EMS service
Twin City Ambulance has said it cannot be Lockport's main EMS service going forward, and the fire department is not allowed to run its own ambulance service
---
By Benjamin Joe
Lockport Union-Sun & Journal
LOCKPORT, N.Y. — At least 80 first responders walked into the Lockport Common Council chambers Wednesday night. They were from South Lockport Volunteer Fire Co., Wright's Corners Volunteer Fire Co., Cambria Volunteer Fire Co. and even as far as North Tonawanda and Medina.
They came quietly. Most did not say anything — but applauded when they heard their own feelings and views voiced.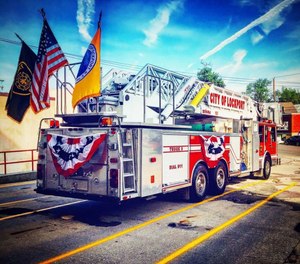 South Lockport Fire Chief Chris McClune summed it up. He said that the volunteer firefighter was a dying breed. Less people are volunteering to be first responders.
"Fire companies are struggling to get enough people to respond to emergency calls for EMS and fire," McClune said. "The City of Lockport is making this even harder to get a response out of the volunteer fire companies, as we are getting burned out."
On Dec. 6, Terry Clark, president of TCA, made the statement that they were unable to provide service for Lockport. If Jan. 31 passed and the City of Lockport was not moving toward handling their own ambulance transport service, his company would stop making Lockport a priority.
It wasn't the money, Bryan Brauner, CEO of Twin City Ambulance said, Wednesday night, it was the fact there wasn't enough trained personnel in the company to service the needs the area has. All of the local ambulance companies, including volunteer fire companies, felt that need and the biggest employer of paramedics was the Lockport Fire Department.
And it was not allowed to run its own ambulance service.
"Things are beyond us to fix," Clark said after the meeting. "The city has to act. If not people will not have an ambulance."
While some called for immediate action, 5th Ward Alderwoman Kristin Barnard asked for time. We've just gotten the report back, she said. We need to sit down, all stakeholders.
"We know what's going on," Barnard said. "We're trying to figure it out. We want all the experts, the chief, the union, everyone to sit down and have a conversation."
The report Barnard referenced was the Freed Maxick draft report released to the public, Monday. It gave several scenarios of what could be done in regard to the Fire Department taking on ambulance service on its own. The scenario referenced by supporters was a two-ambulance system, which would make approximately $10,000 after four years. Other scenarios played out at a loss for the City, according to the report, but Mayor Michelle Roman had said there was a yearly $180,000 miscalculation in the report earlier in the week, which skewed the projections into rosier territory.
The report was asked for by the Common Council, without going to bid for the best price, unanimously in June.
Barnard noted that she had asked for a temporary contract in June until the report was finished.
"It could've been done for $15,000 a month, that would've been completely worth it," she said.
Earlier in the meeting, 4th Ward Alderwoman Kitty Fogle also said there was a temporary contract and was contradicted by Roman, who denied there was ever such a chance for a temporary contract.
At the Wednesday meeting, Roman addressed the crowd of volunteer and professional ambulance workers and firefighters midway between the recess for public comment.
"Twin City said in their letter that they will supplement, but they can't be the main (provider). They need us to use our two (ambulances) and our paramedics," Roman said. "They also negotiated to have two firefighters on the ambulance instead of three to reduce overtime costs.
"This has been said over and over again: this is a nonissue. The finances have now proven that we should and can do this in a fiscally responsible way and provide vital services for our residents."
After the meeting, Common Council Paul Beakman told this reporter that the only thing he needed was one more vote on the Common Council and the LFD would be back in the ambulance business. He said it couldn't be done at a special work session, where the Freed Maxick report would be discussed, and he wanted to call a special meeting of the Common Council before Jan. 11, the next scheduled Common Council meeting.
"I don't understand this," he said. "We have the evidence it's doable for the Fire Department and still alder-people are not jumping on board."
___
(c)2022 the Lockport Union-Sun & Journal (Lockport, N.Y.)
Visit the Lockport Union-Sun & Journal (Lockport, N.Y.) at lockportjournal.com
Distributed by Tribune Content Agency, LLC.
McClatchy-Tribune News Service