NM officials struggle to regulate air ambulance fees
The costs of ambulance services have skyrocketed nearly 230% in the last 15 years
---
Rebecca Moss
The Santa Fe New Mexican
SANTA FE, N.M. — Scott Allen Sorensen doesn't know how he broke his neck while skiing a black diamond run at Taos Ski Valley. He only remembers his body sliding downhill on the slick snow for what seemed like a very long time.
"I had no control over the rest," he said.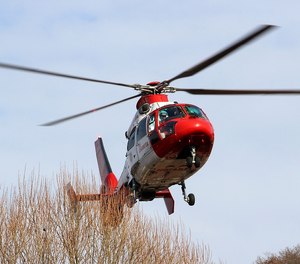 Following the Feb. 2 accident, Sorenson was taken to the ski basin's medical center and then to Holy Cross Hospital in Taos. An emergency room doctor there determined his neck was fractured and he should be sent to Albuquerque for more advanced medical care. Initially, doctors planned for him to be taken by a traditional ambulance but later shifted course, deciding instead to move him by helicopter.
That decision resulted in a nearly $70,000 bill for the flight.
"I really wasn't given the options and the costs," Sorenson said. "I was basically at the mercy of the system — heavily sedated. I had a neck brace; I wasn't moving. The whole process just happened to me."
How to regulate the billing practices of air ambulance companies is a question New Mexico regulators and lawmakers are struggling to address, so far with little success. In a largely rural state with vast areas served by few medical providers — and just one Level 1 trauma center, in Albuquerque — the air ambulance industry has expanded rapidly in recent years.
The costs of services have skyrocketed nearly 230 percent in the last 15 years; as these fees have increased, so too has the number of air ambulance companies in the state — to at least 21 in 2017 from 13 a decade ago, according to a 2017 report by the New Mexico Office of the Superintendent of Insurance.
Sorenson is one of five people who filed a claim with the New Mexico Attorney General's Office in the last two years against Colorado-based Air Methods Corp., a privately owned company. They allege the company charged them exorbitant fees, often exceeding $60,000 — with much of the costs not covered by health insurance providers.
The attorney general launched an investigation into Air Methods' billing practices last year, months before Holy Cross Hospital used the company to transport Sorenson.
A class-action lawsuit also was filed against the company in 2017 in West Virginia, making similar allegations about billing practices.
Doug Flanders, a spokesman for Air Methods, defended the firm in an emailed statement. "We only go when we are called," he said. "And we transport every patient who needs our services, regardless of their ability to pay."
Flanders said the company transported 1,500 patients in New Mexico in a 12-month period ending in April and is in negotiations with Presbyterian Health Plan Inc. and "actively attempting" to negotiate with Blue Cross Blue Shield of New Mexico to provide covered services.
"If we can add the two largest insurance carriers in the state," he said, "our services will be covered for more than 55 percent of the privately insured citizens of New Mexico."
Air Methods is the only air ambulance provider in the Taos area, he added, and has a "strong partnership" with Holy Cross Hospital.
Amor Brannin, chief financial officer for Presbyterian Health Plan, said the organization contracts with most air ambulance companies in New Mexico.
"In the unlikely circumstance that an air ambulance provider is out of network," Brannin said, "we work with the provider to offer a reasonable rate consistent with the market."
No rules to rein in costs
Air ambulances serve more than 550,000 patients a year nationally, according to industry data, and in many rural areas, they are the only quick way to get patients to trauma centers and burn units. As more than 100 rural hospitals have closed around the country since 2010, the need for air services has increased.
While the New Mexico superintendent of insurance's report noted a decline in competition might have led to some fee hikes — the top four air ambulance services merged into two companies in 2015 — experts cite a lack of regulation as a large factor in the rising costs nationwide that are leaving patients with bills that rival a year of college tuition, even after insurers pay a portion.
The average cost for air ambulance transport in New Mexico rose to nearly $46,000 in 2015 from about $14,000 in 2006, says the 2017 report by state superintendent of insurance. An average of nearly $27,000 was left for patients to pay after insurance companies covered their portions as of 2015, the state found.
Federal laws provide airlines, including air ambulances, with strong protections from financial regulation, contributing to sharply increasing service fees. The 1978 Airline Deregulation Act prevents states from enforcing laws related to "rates, routes or services."
"This is a case where the market breaks down a little," said James Cosgrove with the U.S. Government Accountability Office. "States are really limited in what they are able to do."
The GAO put out a report in March highlighting the lack of choice patients have when it comes to in-network air ambulance services and the limited efficacy of efforts by states, including New Mexico, to change this.
Unlike the relationships between doctors and insurance companies, which often are mutually beneficial, Cosgrove said, air ambulances generally do not benefit from contracting with hospitals or insurance companies. As a result, he said, the gap between what an air ambulance company charges and what a health insurer pays often exceeds $10,000.
At a U.S. House Energy and Commerce Subcommittee hearing last week, Rep. Ben Ray Luján, D-N.M., questioned air ambulance industry experts on why these patient billing practices are occurring.
"I'm trying to get my hands around why this is costing so much and why so many of my constituents are being hit by surprise bills," Luján said.
Rick Sherlock, president and CEO of the Association of Air Medical Services, the industry group for air ambulances, said in the hearing that one reason is low reimbursements from the government Medicare and Medicaid programs for a high volume of patients. Charges to privately insured patients must make up that difference, he said.
Medicaid will reimburse air ambulance fees when services are deemed "medically necessary." In 2018, air ambulance services transported 8,395 Medicaid patients in New Mexico, at a cost of $12.3 million, the New Mexico Human Services Department reported.
As a major payer for the air ambulance industry, Medicaid's "impact cannot be understated," the insurance report said.
A call for state policy changes
New Mexico has no laws that regulate air ambulance providers. A law does require insurance companies to pay for policyholders' emergency services, but it does not require air ambulance companies to accept these payments.
A workers' compensation rule in the state allows a negotiation process to determine fees for certain medical services, which is supposed to prevent "balance billing" for injured workers — a practice of charging patients for the portion of costs insurers won't cover. But the report by the superintendent of insurance found air ambulance companies often challenge these cases and that state officials dismiss cases rather than intervene on a worker's behalf.
The superintendent of insurance recommended enacting stronger legislation in the state to prohibit balance billing, educating health care providers and patients about the financial risks of air ambulance services, and considering a federal class-action lawsuit.
Another approach, attempted during this year's legislative session, would have provided a $550,000 appropriation from the state general fund to increase the Medicaid reimbursement rate for air ambulance companies.
Rep. Rebecca Dow, R-Truth or Consequences, who co-sponsored the bill, said this might have prevented companies from shutting down some air bases in the state. When an air ambulance company left Sierra County last year, she said, it added to the deficit of medical services for local residents.
"I got calls from families saying, 'We go to the lake, we have off-road vehicles, we have horses, and we cannot have our young children in a town where we do not have medical services,' " she said.
Silver City is now the only city in Dow's district — which includes Sierra, Grant and Hidalgo counties — with an air ambulance, she said.
Sorenson said better state regulation is crucial.
While he was finally able to get 90 percent of his air transportation bill covered by his insurance company, he said, that is a rare scenario.
Other complaints filed with the state Attorney General's Office say bills were sent to collection agencies after patients were unable to pay their share after insurance — $46,000 of a $65,000 bill, for instance.
"It is a necessary service, so they 'gotcha' financially," Sorenson said. "You can destroy somebody with medical bills like that."
Kaiser Health News, a national nonprofit news agency that covers health issues, contributed to this report.
———
©2019 The Santa Fe New Mexican (Santa Fe, N.M.)
McClatchy-Tribune News Service