Mass. health departments equipping public with naloxone
Three Massachusetts towns recently launched a pilot program to provide members of the public with naloxone
---
By Jim Haddadin
Metro West Daily News
FRAMINGHAM, Mass. — For someone in recovery from drug abuse, it takes a supportive community to make progress.
Addiction is a chronic and relapsing brain disease, said Kelly Joseph, an employee in the Framingham Health Department. The support of family and friends can be crucial to staying clean.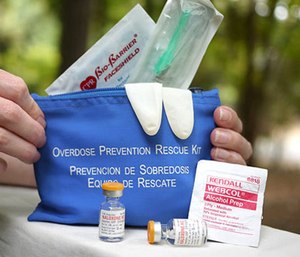 And with opioid use still rampant in the region, Joseph and her colleagues in three surrounding towns are taking a novel approach to expanding that support network.
Framingham, Natick, Hudson and Ashland recently launched a pilot program to provide members of the public with naloxone. The drug, which can rapidly reverse an opioid overdose, is widely available in Massachusetts. However, access to free supplies has typically been targeted at first responders, drug users and their families.
Through a regional collaborative, health departments in the four communities hope to enlist the broader public for support. Their goal is to make the drug—sold under the brand name Narcan—as prevalent in the region as CPR kits and other standard life-saving equipment.
"This is basic first aid as far as we see it," said Joseph, "and it's important to be able to empower the community to step in in the event of an overdose."
Under state law, it's legal for anyone in Massachusetts to buy naloxone at the pharmacy without a prescription, but doses can be costly.
Within MetroWest, two groups offer the drug for free. Through its RISE program, Justice Resource Institute offers a range of health services for those struggling with addiction, including distributing naloxone. Family members of addicts can also access the drug through Learn To Cope, a nonprofit support group, which holds regular meetings in Framingham.
But those resources leave a gap for others who want training and supplies. The idea of distributing naloxone more broadly through local health departments came from Natick Public Health Director Jim White, who heard a desire from residents to get involved, Joseph said.
When additional money for public health initiatives became available last year through the MetroWest Health Foundation, Framingham drafted a grant proposal on behalf of the four communities. They received close to $40,000, allowing the health departments to assemble 500 naloxone kits for a pilot program this year.
"We really see the population that potentially will access naloxone through the health department as really this bystander resident —people who just want to make sure that they have the knowledge and tools necessary to support members of their own community," Joseph said.
Kits include a nasal spray to administer the drug, as well as gloves, masks and a step-by-step visual guide on how to utilize naloxone. Printed material also highlights resources for addiction treatment, with translations in Spanish and Portuguese.
To distribute the kits, the four health departments are encouraging residents to call and schedule one-on-one appointments with their staff. They also want employers and organizations that interact with the public—from restaurants to schools—to consider requesting kits for their facilities. In Natick, the health department recently trained staff at the public library, which now has naloxone kits accessible on every floor.
Since 2013, there has been an increasing trend both in the percentage of opioid-related emergency medical service calls and in EMS calls involving administration of naloxone.
At the same time, the number of opioid-related overdose deaths in Massachusetts fell an estimated 8.3 percent from 2016 to 2017, marking the first year-over-year decline in several years. A total of 1,977 people died of estimated or confirmed opioid overdoses in 2017, for 178 fewer deaths than the 2,155 logged the previous year.
Framingham and other communities receive grant funding from the Massachusetts Opioid Abuse Prevention Collaborative, an initiative funded by the state Department of Public Health that encourages cities and towns to share their resources.
Framingham is coordinating one grant on behalf of four partners in MetroWest.
"We know that this is a ... horrible epidemic that we're currently facing, and we want to be part of the solution, as opposed to part of the problem," Joseph said, "so if we can help empower and educate our community, we can save lives."
Copyright 2018 Metro West Daily News