Va. EMT launches senior help-alert services
The device allows geriatric patients to notify EMS when an injury occurs and provides responders with additional information
---
By EMS1 Staff
VIRGINIA BEACH, Va. — After responding to numerous calls of elderly patients getting injured while home alone, an EMT created an app to ameliorate the problem. 
Scott Lepper's RescueTouch app is a help-alert service that allows elderly patients to easily contact 911, reported Southside Daily. The program also donates 10 percent of membership fees to first responders and senior centers.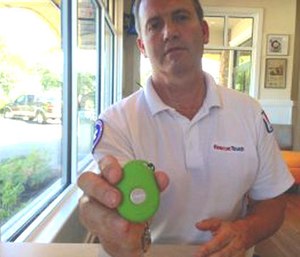 The fall-alert system, called SOS, is programmed to call three different numbers, including 911, and texts first responders a patient's location and altitude. If the person wearing the device falls down, the system detects the fall and sends a text message. 
Lepper said his experience in EMS has provided him with knowledge on how to run the service. "We're all first responders, yet these alert companies are all outside companies," Lepper told the publication. "They don't run on the ambulance. They don't have on-scene experience."
Lepper has been a volunteer with the Sandbridge Volunteer Rescue Squad and the Marine Rescue Team for five years and served as an EMT for three. 
The SOS alert system costs $99, with membership starting at $14 a month.