Book excerpt: 38 hours in Providence
The triage area is out of control. People with assorted injuries occupy twenty of the stretchers that fill the room, some on spine boards with cervical collars around their necks
---
Editor's Note: We're pleased to publish an excerpt from the new book, "Responding" by Lt. Michael Morse. Morse spent 23 years working as a firefighter and EMT in Providence before retiring as a captain in 2013. A regular columnist on our site, his latest book offers fellow first responders a glimpse into his time on Rescue 5. Morse is also the author of "Rescuing Providence" and "Mr. Wilson Makes it Home."
Chapter 5
It's Friday night at midnight and all five of Providence's rescues are busy at Rhode Island Hospital. Well over half of our runs tonight will be alcohol related.  Rescue 2 has brought an intoxicated male in from Cranston Street.  He was found lying in a doorway, unconscious.  Rescue 3 has a drunken Providence College student with them.  I prefer the seasoned drunks like Darryl and Leroy; they never puke in the back of the truck.  College kids either want to kill you when they are drunk, or they throw up without warning, usually all over the equipment.  We always place an emesis basin in quick reach on weekend nights.  Rescue 4 has brought in an assault victim from one of the downtown clubs and Rescue 5 has a RISD student who may have overdosed. 
The radio chatter continues, sending out of town rescues into the city.  While the revelers continue to party, real medical emergencies occur.  An East Providence rescue heads to Wickenden Street for an elderly woman with chest pains, a Johnston rescue responds to Killingly Street for a 4-year-old having a seizure and Cranston Rescue 2 is on the way to Broad Street.  From the sound of our dispatch, they're going to get Darryl.  Again.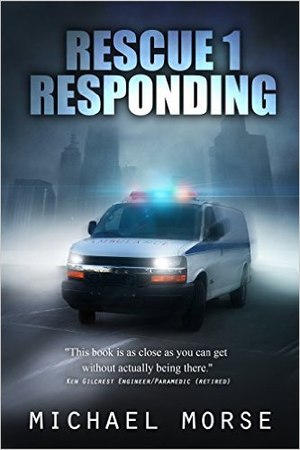 The triage area is out of control.  People with assorted injuries occupy twenty of the stretchers that fill the room, some on spine boards with cervical collars around their necks, others just lying on the stretchers.  A few elderly people are nestled in among the drunks and injured.  Some seem amused by the circus around them, others not so much.  There, everybody waits until a spot in the treatment area opens up.  The seriously injured are in trauma alley. 
The night is young and already the hospital is overburdened.  Tanya is working with Gary and they are doing their best to keep up with the steady flow of patients coming through the doors.  They not only have to contend with the rescues, but are responsible for walk-ins as well. 
Outside, the cool, evening air offers a welcome change from the stifling atmosphere of the ER.  I join the rest of the rescue crews who have gathered around the trucks.  Theresa and Tim from Rescue 5 sit on the rear bumper of their truck, Zack and Mike from Rescue 4, Isaac and Chris from Rescue 2 and Heidi and Al from Rescue 3 are all here, standing around swapping stories and having some laughs, waiting for the next call.  This is our bonding time.  The firefighters are back in the stations, all of the rescues are here.  It is a nice diversion from a night full of stress and aggravation to get together and vent.  Most of the talk is about the nitwits we have been taking to at the hospital, or how many runs we've had.  It is an important and vital part of a busy night to get together and see that we are not alone.  The ten people working the rescues will do seventy-five percent of the fire department's work tonight.
Two by two our numbers dwindle.  First Heidi and Al go to an accident on Branch Avenue.  Tim and Theresa are next, off to another assault at a downtown club.  Isaac and Chris get sent to Poccasset Avenue for an asthma attack and Zack and Mike head downtown for some hot wieners at Haven Brothers.  Mike and I decline their invitation and head back to quarters, hoping to get some rest before things get busy again.
I consider calling Cheryl to say goodnight but decide to let it rest.  Tomorrow we'll try again.
0136 (1:36 a.m.) 
"Rescue 1; respond to 1016 Babcock Street for a domestic disturbance, stage for police."
I put the book I was reading down and head for the truck.