The Star of Life: Quick thinking, teamwork contributes to skydiver's miraculous recovery
Coordinated efforts between fire, EMS, CareFlight and hospital physicians made it possible for Paul Rizzo to continue living his life to the fullest
---
It was a jump he's done over a thousand times. And it was a call the Middletown Division of Fire has responded to frequently at their local airport.
Except, this time, the jump didn't go as planned. And the fire department wasn't anticipating such a severe trauma.
Hard landing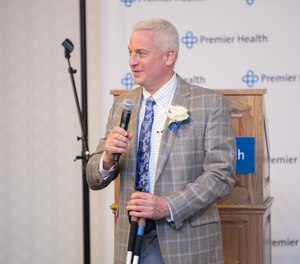 On May 12, 2018, 53-year-old Paul Rizzo jumped out of a perfectly good airplane.  
That part was nothing new to him. As an experienced skydiver for 30 years, he's made over 1,000 jumps – and on a competitive team, no less.
But, that day, and that jump, did not go off without a hitch. Rizzo was trying to make a complicated jump – one that ended with him skimming along the ground. However, during his jump, his parachute failed to open. Instead of landing, he fell – fast – at 100 miles per hour.
Firefighter-paramedic Jim Malin, with Middletown (Ohio) Division of Fire, said the "hard landing" call description they received was vague, but it's one they've received before.
"It was nothing out of the ordinary," he said. "It's pretty typical for us to get a few runs over there during the summer months when they're jumping a lot."
For the most part, the department arrives on scene and responds to patients with rolled or broken ankles.
"There have never been any real physical injuries at all. They're just kind of shaken up," Malin said. "So, when we got on scene and found what we did, it was a little more than what we were anticipating."
Severe, traumatic injuries
Malin, who was acting officer that day on the engine company, arrived on scene with the medic crew out of his station.
"The staff from the skydiving company was tending to him initially," he said. "You could tell by the looks on their faces that his injuries were more than just a broken ankle."
As crews approached Rizzo, it became obvious that his injuries were severe.
"He had significant deformity present to his lower extremities, with lower leg bone impalement into the earth," Brian Wright, lieutenant of EMS with Middletown Division of Fire, said.
Rizzo's left leg, which hit the ground first, took the most impact. He broke his ankle and distal tibia on his left side and broke his tibia in two places on the right side.
"The angulation of his legs made it obvious that this was a serious trauma," Malin said.
After realizing the severity of Rizzo's injuries, Malin called for another engine company as well as CareFlight Air and Mobile Services from Miami Valley Hospital – a Level 1 trauma center in Dayton, Ohio.
"He was alert and oriented," Malin said. "Throughout the incident, he was obviously complaining of severe leg pain, but I don't think he really understood how severe his injuries were at the time."
Within minutes, the CareFlight team arrived on scene and transported Rizzo to the hospital. Once at the hospital, the trauma team found that he had also suffered a lower spinal injury, pelvic fracture and an aortic tear. The aortic tear alone is a life-threatening injury. In fact, 90 percent of aortic tears are fatal at the scene, according to Dr. Mary McCarthy, trauma surgeon at Miami Valley Hospital.
However, because of the department's training, crews were able to recognize the severe level of trauma Rizzo had suffered.
The importance of a thorough patient assessment
Because time was of the essence, the crew made their rapid and secondary assessments.
"We started by removing his jumpsuit, and there's a lot to that," Malin said. "At the time, his vitals were stable, but the injuries to his lower legs were severe."
They began treatment by maintaining an open airway, initiating IVs for fluid challenge and full spinal immobilization.
"We had him, his lower injuries, splinted and mobilized as best as we could due to the extent of his injuries," Malin said.
They also began to fix the loss of pulse in his affected lower extremities.
"He had multiple underlying injuries that, through their decision-making, were able to be addressed," Lt. Wright said.
Because of the department's thorough patient assessment, they were able to quickly identify the need for Rizzo to be treated at a Level 1 trauma center.
"While the local Level 3 trauma center was only a 10-minute transport, their recognition of the patient's condition and decision to transport via medical helicopter was much more appropriate," Lt. Wright said. "If not for this recognition, I fear the outcome would have been potentially grave for him."
Working in unison with the CareFlight team, Malin said, is something the crews are used to and familiar with.
'Seamless delivery of care'
The department's ongoing training with their EMS directors, local hospitals and their EMS coordinators, Malin said, contributed to the cohesiveness and well-coordinated efforts between fire, EMS, CareFlight and Miami Valley Hospital physicians.
"We do a lot of training with the hospitals and CareFlight has worked with us on anything from traumatic injury-type trainings, how their aircraft works as far as loading it and doing everything to where we all feel very proficient in calling them," Malin said. "It's not something that's out of the ordinary for us."
The department also reviews patient cases with Dr. Andrew Hawk, medical director and emergency medicine physician with Miami Valley Hospital, at least once a year.
"He goes out to Middletown and does case reviews with them because they see a lot of high acuity patients with significant injuries," Mandy Via, outreach manager for CareFlight Air and Mobile Services, said.
Dr. Hawk, Via said, pulls the department's runs for the year and provides a tailored follow-up.
"He talks them through what we did in route – like if we had to provide another line or intubate," she said. "He runs them through that transition of point A to point B. And, then what they found in the ER and how that was managed – whether it was surgical or medical intervention – and then their disposition, what day they were discharged, all that."
Moreover, it's a way for crews to receive closure on their patients.
"A lot of these patients come from their community," Via said. "They might see them, or they may not ever see them again and they wonder what happened to them. It's important that we go out and tell them exactly what happened and provide that feedback to them. We're all collaborators on care of our patients."
And the overview and comprehensive scope of care, she said, helps fire and EMS crews realize how important the care they provide in the field truly is.
In Rizzo's case, the care he received by Middletown Fire, Via said, was instrumental in the CareFlight crew's ability to continue care.
"The care that they get at that definitive care is what truly makes it a seamless delivery of care across the board," Via, a flight nurse and paramedic, said. "The responders did a phenomenal job. They kept the course and managed the patient appropriately."
Lt. Wright couldn't agree more, which is why he nominated the crew members from the incident for the 2019 Ohio EMS Star of Life award.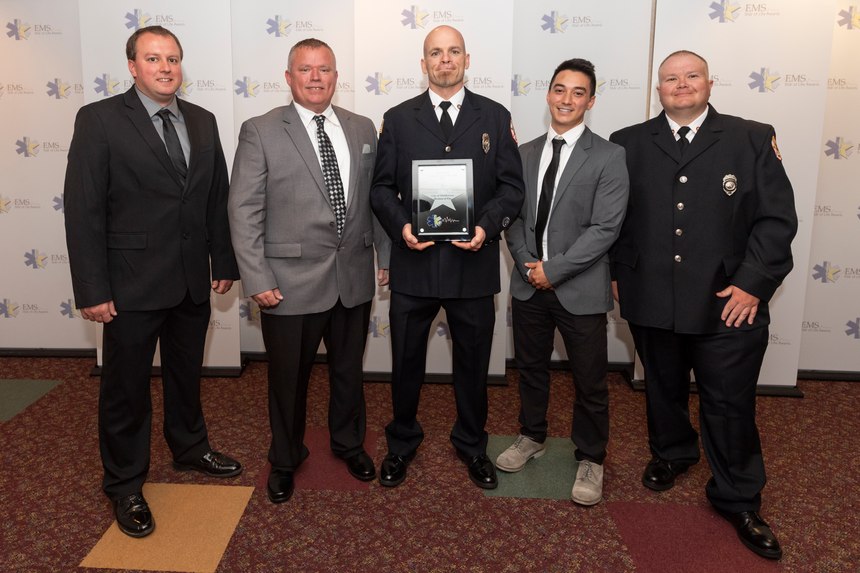 A humble recognition
Being nominated and receiving the award, Malin said, was a surprise to the crew.
"As firefighters and paramedics, we don't like the spotlight," he said. "We do our thing and that's our job. But it is certainly a great feeling to be recognized, especially on that level. We are very humbled and appreciative of it."
Additionally, Rizzo was invited to attend Miami Valley Hospital's trauma survivor's dinner.
"We're all one team, working together. This case highlights the continuous training, education and communication. It pays off," Via said. "It helps streamline care and that's why we're here – to take care of our patients. He's having a great time, having a great life. We always like to say why we fly, and he's why we fly."
As for Rizzo, he was discharged from Miami Valley Hospital a mere 24 days after his accident.
In a Premier Health video detailing his story, Rizzo says he has "zero back pain and zero hip pain."
He's recovering so well that he's back to living his normal life – so much so that he was traveling out of the country during the ceremony for the Ohio EMS Star of Life award.
"That, right there, in our eyes, is more than enough recognition for us," Malin said. "To see somebody back up and being able to continue their life … that does it all for us."
Read next
"The trooper was lying on the ground and he was unconscious. He had a number of different wounds – broken leg, broken arm, what appeared to be a gunshot wound from his own gun. One of the bystanders actually took a round from the trooper's car as he was pulling him out." 
[Read: Amidst exploding bullets, cars engulfed in flames, Ohio medics treat one of their own]