Amidst exploding bullets, cars engulfed in flames, Ohio medics treat one of their own
Judy Ortiz and Adam Van Duzen of Morrow County (Ohio) EMS treated Trooper Jason Phillips for traumatic injuries, including a bullet wound, after he was struck head on by a wrong-way driver
---
"The trooper was lying on the ground and he was unconscious. He had a number of different wounds – broken leg, broken arm, what appeared to be a gunshot wound from his own gun. One of the bystanders actually took a round from the trooper's car as he was pulling him out." 
Judy Ortiz and Adam Van Duzen of Morrow County (Ohio) EMS got the call at about 2:00 a.m. for a head-on motor vehicle collision involving a state trooper.  
When they arrived on scene, both vehicles were in the middle of the interstate, engulfed in flames. Their captain assigned them to the trooper, who had been pulled from this vehicle by bystanders, with the direction to first don ballistic protection – there were rounds going off. The ammunition in the trooper's vehicle had heated to the point that the bullets were becoming projectiles.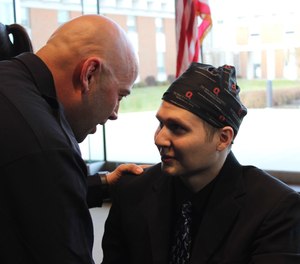 "We could hear them dinging off the other cars and off the guard rails," Van Duzen told EMS1. "Judy didn't notice it – she ran by quick. We were dedicated to the trooper."  
That Ohio State Trooper, Jason Phillips, just 23 years old, was struck head-on in the wrong-way crash after being called to investigate reports of an impaired driver 
Treating one of our own 
The County Sheriff's Office was the first police presence on scene. "We had a couple deputies from there and all of a sudden, state patrol was everywhere," Van Duzen said. "They were hovering over us trying to give us help as much as they could." 
Ortiz noted there were more law enforcement officers on scene than she had ever seen before. 
The added personnel, and the cumulative stress, come with the territory when treating a fellow EMS provider, firefighter or police officer.  
"For me, it automatically increases the stress level, just having to be another member of the public safety community," Van Duzen said, "You want to step up your game just that much more." 
Ortiz said treating another public safety professional can make you move faster. "You get kicked into overdrive." For her, more than the fact that Phillips was a fellow public safety colleague, she was impacted by his age. "He looked like my son laying there," she said. "He just looked super young, it looked like my child." 
She was also impacted by the selfless measures Phillips took to protect the public. "The fact that he purposely tried to stop that guy from injuring other people made a big impact too," she said. "He was trying to stop the wrong way driver on the interstate when they collided and it could have been a way bigger accident, had he not."  
"He took that driver head on intentionally," Van Duzen added. "I think the trooper was going somewhere around 90-100 mph when they hit." 
A trauma nurse from Tennessee and a retired firefighter were amongst the group caring for the unconscious trooper. Ortiz, a medic in training and certified AEMT, proceeded with a rapid trauma assessment, while Van Duzen, a veteran EMT, and IAEP Local R7-059 president, cleared his airway. 
They were able to stabilize Phillips and load him into a helicopter, which transported him to the Ohio State University Medical Center where he underwent surgery.  
After the call 
After loading Phillips for air medical transport, "everything kind of slowed down," Van Duzen recalled. That feeling you get after a big incident, "where you go, go, go, and then, all of a sudden, everything's just done. You've got to go back and resupply and all that type of stuff." 
"It was a very surreal morning," Ortiz agreed. "You go from being asleep, to you got a trooper in a burning car on the freeway, and then it goes from nothing to overdrive, and then that overdrive until you get back, and then the adrenaline stops and you try to piece together how everything went."  
More than a month passes after the incident before Ortiz and Van Duzen learned Phillips was going to be OK. "It was touch and go for a long time," Ortiz recalled. The pair followed Phillips' recovery journey on Facebook.  
We have some awesome news.... Trooper Jason Phillips has been upgraded to stable condition!! 🙏 Keep the thoughts and prayers coming!!

Posted by Ohio Going Blue on Friday, July 26, 2019
"We'd see troopers on scene and ask about how he was doing," Van Duzen said, adding he thought about Phillips every day during that time, and continues to wish him well. "There's no amount of day that goes by that I don't think about how Jason's doing and how he wants to go back to be able to be a trooper again."  
An emotional reunion 
The Ohio State Highway Patrol recently awarded certificates of recognition to Ortiz and Van Duzen for their part in the rescue. To them, the award was appreciated, but unnecessary. "This is something that we do every day, as far as doing our jobs," Van Duzen noted. "It was what we were trained to do."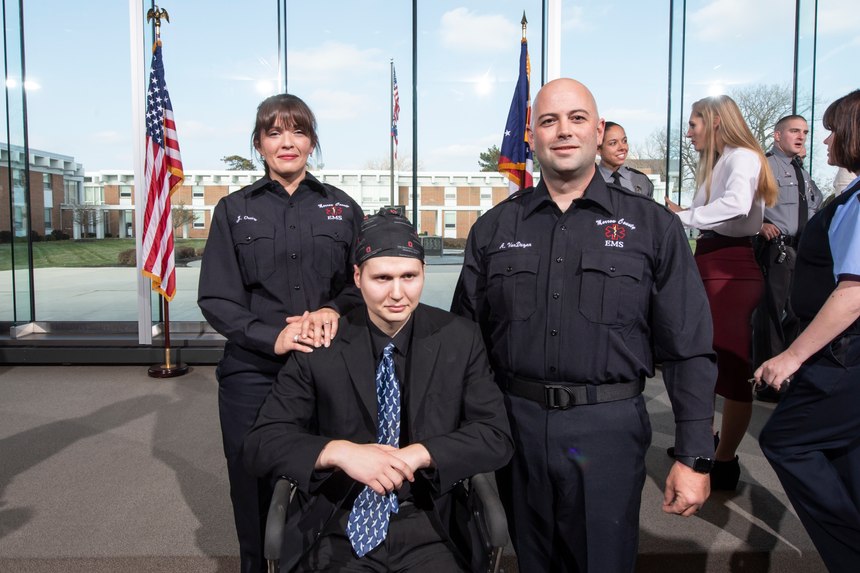 Though Phillips still faces a long road to recovery, he made a special effort to be in attendance, which was the highlight for both Van Duzen and Ortiz, who quipped, "I was thankful he was breathing on his own."  
"Yeah, last time we saw him he wasn't breathing on his own. I mean hell, he stood up, and with assistance, walked to his own seat in the auditorium," Van Duzen related. They agree, the moment was simply "awesome." 
Ortiz noted the best part was being able to give Phillips a hug. "We cut people out of cars, and do all that stuff all the time, but you don't ever get to find out how somebody ended up," Ortiz said. "So, it was kind of nice to be able to follow it from a distance and then actually be able to see him with his eyes open." 
Final thoughts: Be ready for that call 
I asked the partners what they've learned from this experience. Here's what they had to share.  
Van Duzen: "For me, it would be go out and do your job to your absolute best – no matter what call it is. We get called out all the time on people that are regulars, and that's not necessarily interesting to go out and tell them that, 'there's really nothing going on, but we'd be happy to take you to a hospital.' It's easy to become complacent. At the same time, if you become complacent, you may not perform with your highest capability when it's really called for."  
Ortiz: "The one thing I have learned from this call was not let grotesque injuries take you away from your ABCs. It is really hard when you run out of things to do and you're like, how do I fix this? Just keep to your basics, your basics are going to save your butt all the time."  
Make sure you're ready for that call that will change you and stick with you for the rest of your career. We wish Trooper Phillips the best as he continues to heal from his injuries, and thank Judy Ortiz and Adam Van Duzen for sharing their story.  
Read next
On May 12, 2018, 53-year-old Paul Rizzo jumped out of a perfectly good airplane. It was a jump he's done over a thousand times. And it was a call the Middletown Division of Fire has responded to frequently at their local airport. Except, this time, the jump didn't go as planned. And the fire department wasn't anticipating such a severe trauma.
[Read: The Star of Life: Quick thinking, teamwork contributes to skydiver's miraculous recovery]