Wis. village board votes to replace volunteer EMS with private service
Supporters of Oostburg Ambulance, which has operated for nearly 50 years, had campaigned and petitioned to delay the board's decision
---
By Laura French
OOSTBURG, Wis. — A Wisconsin village board has voted to have a private ambulance service take over its 911 operations, leaving an uncertain future for the village's volunteer EMS agency. 
Supporters of Oostburg Ambulance, which has been the village's ambulance provider for the last 48 years, had campaigned to delay the board's vote, hoping to have the issue decided through a referendum next year, according to WHBL. The volunteer service circulated a petition calling for the referendum and drafted a proposal to hire two AEMTs in order to keep the service operational.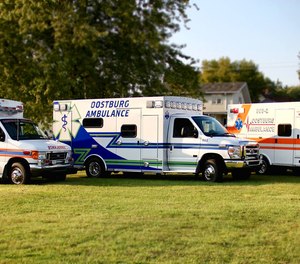 On Monday, the Oostburg Village Board voted to have Orange Cross Ambulance, a private agency that covers the rest of Sheboygan County, take over EMS operations in the Oostburg area. The move may lead to Oostburg Ambulance's disbandment, although the board has previously proposed transitioning the agency from an ambulance service to a first responder agency, with volunteers only able to respond in an EMR capacity. 
Oostburg Ambulance supporters and members attended the meeting Monday displaying signs that read "Save Oostburg Ambulance," and video from the meeting shows supporters protesting after the decision was made, with one attendee saying, "You've chosen not to listen to your community."