Rural NY providers seek to establish ambulance district
Long ambulance wait times in rural New York force regional EMS officials to seek solutions at the state and federal level
---
By Stephanie Sorrell-White
The Times Telegram, Herkimer, N.Y.
HERKIMER, N.Y. — Greg Eisenhut recalled Tuesday how one time a pregnant woman was knocked unconscious from a falling tree limb during a windstorm at West Canada Valley Central School.
The wait time for an ambulance was 50 minutes, he said.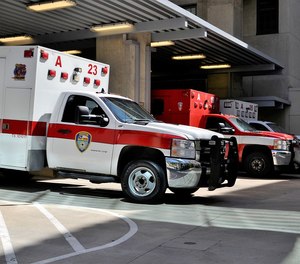 Eisenhut also recalled a student-athlete who was seriously injured during a soccer game in Dolgeville and had to endure a similarly long wait before receiving medical attention.
This, he said, is a recurring issue for those seeking emergency medical help in rural areas.
"Rural areas deserve just as good of coverage," as those living in more populated areas, said Eisenhut, who is president of the MOVAC Board of Directors.
On Tuesday, members of the Mohawk Valley Nine — a bipartisan group of local state legislators — met with emergency service representatives from throughout the region at Herkimer College to discuss what can be done to help the agencies.
"It's pretty evident from today that New York is facing a real crisis," said state Sen. James Seward, R-Oneonta.
The legislators heard from the dozens of representatives in attendance about the problems they face, including being able to find and retain volunteers, and how some have had to move from being a volunteer agency to a paid service to ensure coverage in their area. Another issue, they said, is people who fake an illness to get a ride to the hospital, only just to leave.
Herkimer County Emergency Services Director John Raymond said having an ambulance district established in municipalities could help provide funds needed for services.
"Yes, it's another tax, but how long do you want to wait for an ambulance," he said.
Seward said he heard how the low Medicaid reimbursement is a problem and that legislators need to push the state Department of Health during budget season to increase the amount that is going to ambulance services.
State Assemblywoman Marianne Buttenschon, D-Marcy, said she found the roundtable to be "very informative" and state Assemblyman Brian Miller, R-New Hartford, said, "The Mohawk Valley Nine are here to get together and see how to proceed on this."
"I'm an engineer," he said. I like the goals and milestones."
Miller and the other legislators encouraged the emergency providers to continue to communicate with them and to keep the community informed of the services they provide and the help they need.
The Mohawk Valley Nine includes Buttenschon, Seward, Miller, Assemblyman John Salka, R-Brookfield, and Assemblyman Robert Smullen, R-Meco, all of whom were present. Other members of the delegation include state Sen. Joseph A. Griffo, R-Rome, Sen. Rachel May, D-Syracuse, Sen. Jim Tedisco, R-Glenville, and Assemblyman Ken Blakenbush, R-Black River.
———
©2019 The Times Telegram, Herkimer, N.Y.
McClatchy-Tribune News Service