Emergency meeting called over N.Y. ambulances
"Half of Niagara County was left vulnerable" when calls were dispatched to volunteer fire companies requesting assistance in the city
---
By Benjamin Joe
Lockport Union-Sun & Journal, N.Y.
LOCKPORT, N.Y. — On mid-morning Thursday, 10 calls from Lockport were dispatched to volunteer fire companies around the area requesting assistance in the city. Three of those calls, according to South Lockport Fire Chief Chris McClune, were within an hour of each other and all of them left their companies' traditional territory wide open.
This was not a new occurrence. In front of the Lockport Common Council Wednesday, McClune had summed up the situation, backed by at least 80 first-responders in a tumultuous meeting.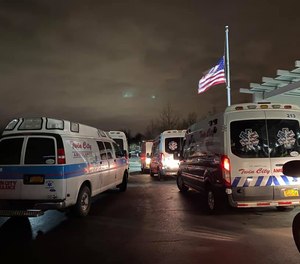 "The volunteer agencies that surround the city cannot continue to be used as a primary answer to the city's EMS ambulance issues," McClune said. "As I have said before, the volunteer staffing locally, as well as regionally, and even nationally are at an all-time low."
The room-filling issue had been boiling for months and came to a head when Twin City Ambulance said they would no longer make calls from the City of Lockport a priority after Jan. 31 unless the city outfitted their ambulances and got them back into "the ambulance business."
Common Council President Paul Beakman, upon hearing of the situation on the roads — which included freezing rain and a thin coat of ice on the ground — decided that what an Emergency Common Council meeting was warranted.
"Half of Niagara County was left vulnerable," Beakman said. "Because of a problem created by the City of Lockport and it needs to be fixed by the City of Lockport."
The Emergency Common Council meeting is set for 6:30 p.m. Monday.
The meeting had previously been scheduled as a special workshop to discuss the Freed Maxick analysis. The report shows figures on the fiscal feasibility of the fire department transporting individuals to hospitals.
However, now the meeting has turned into more than a discussion and action is expected. Whether the city will contract with a commercial company, or put its own ambulances on the road, after Monday the landscape of the city's services will be changed.
5th Ward Alderwoman Kristin Barnard said she knew that a meeting was coming, but hadn't expected it to be so soon. On Wednesday she had asked for more discussion between all stakeholders, including the fire union. On Thursday, Beakman said he would invite a representative of the union to the personnel and workshop before voting in the emergency meeting. If it passes, his resolution will bring ambulance service back to the fire department.
"I do want to sit down with all parties," Barnard said Wednesday night. "I want chief there, I want Common Council there, I want all the experts and anyone who has to do with this decision to sit down and have a conversation."
Barnard said on Thursday evening that she was on the verge of pushing ambulance service forward, but wanted the agreement ironclad, in writing and to last at least two years.
"There's just a couple of things I want to clarify, because I've been doing my homework," she said.
Barnard has presented a second resolution which would have the city contract with a commercial ambulance company, but if everything is going well, she'll withdraw that resolution, she said. Otherwise it was however the council members voted.
Lockport Fire Chief Luca Quagliano said that while a weather event doesn't always occur and drive up calls, he also doesn't want to say that it was unheard of.
"It doesn't happen every day where there's three-calls at the same time," Quagliano said. "But it happens enough."
Quagliano said he was in favor of the resolution put forth by Beakman to put the two ambulances owned by fire department back into action, however, that two ambulances were not enough. He recommended a third resolution to have the LFD run ambulances and to contract for another basic life support ambulance from a commercial ambulance company, which his paramedics would ride on when needed.
As the Common Council is comprised of five Republican officials and himself, a Democratic official, Beakman said he feared that a block of Republican council members will outvote his convictions.
"This is an emergency and I am begging everyone to support this urgent resolution," Beakman said.
___
(c)2022 the Lockport Union-Sun & Journal (Lockport, N.Y.)
Visit the Lockport Union-Sun & Journal (Lockport, N.Y.) at lockportjournal.com
Distributed by Tribune Content Agency, LLC.
McClatchy-Tribune News Service