Marine veteran, 65, starts new career as paramedic
Curtis Raetz, a Marine pilot who served six years on active duty and retired from an IT career in 2015, became a certified paramedic after going back to school at 64
---
by EMS1 Staff
MARBLE FALLS, Texas — A 65-year-old Texas veteran who served in the Marines as a helicopter pilot is now working as a paramedic.
Curtis Raetz caught the "service bug" again in 2016 after three decades in the military and retiring from a civilian career as an information technology project manager, and became a volunteer firefighter and EMT with Spicewood Volunteer Fire Department and EMS, according to DailyTrib.com.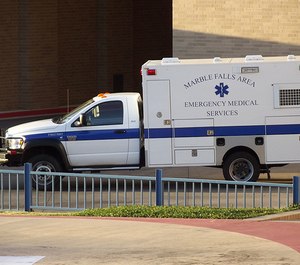 "Going back to being a Marine, I've always wanted to serve," Raetz said.
At the age of 64, Raetz returned to school to become a certified paramedic. He completed his studies and rotations at hospitals and with EMS units, and recently received his certification.
During his six years on active duty with the Marines, Raetz piloted AH-1 Cobra and CH-53 Sea Stallion helicopters. He said his experience in the military helped him develop skills he now uses as a paramedic.
"When you're flying, you're thinking about what's happening three to five miles ahead of you," he said. "I learned how to put the other things in compartments in my brain."
Raetz now serves with the Marble Falls Area EMS.
"I just love what I do, I enjoy the people and the camaraderie," he said. "I think as long as I can help, as long as I can serve in some way, I will."