Impaired driver plows into crash scene, injures medics
Two Acadian Ambulance EMTs and two bystanders were struck while tending to an accident victim
---
By The Advocate
BATON ROUGE, La. — A Baton Rouge police officer, two Acadian Ambulance EMTs, two Good Samaritans and another driver were seriously hurt early Sunday morning when a driver possibly under the influence of drugs or alcohol plowed through a single-vehicle crash scene, according to police.
BRPD spokesman L'Jean Mckneely said the six injured, plus the driver, were transported to Our Lady of the Lake Hospital, and that everyone injured is expected to survive. The driver's injuries were minor, he said.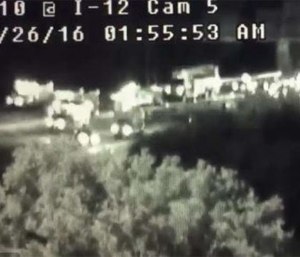 Around 1:15 a.m. on I-10 East at the I-12 split in Baton Rouge, Mckneely said a 24-year-old driver in a 2003 Mazda 6 hit a guardrail. Two others saw the accident and stopped to help. With EMS and police at the scene, a 26-year-old driver in a 2014 Chevrolet Silverado drove through the accident scene, hitting the Mazda 6 and four people, then fleeing the scene and hitting two others. Officers chased the driver and caught him.
The BRPD officer, driver of the Mazda 6, one EMT and one Good Samaritan were hit by the Silverado in the initial impact. Another EMT and the other Good Samaritan were hit as the Silverado fled the scene.
Mckneely said the possibly impaired driver refused a breathalyzer test, but blood was drawn at the hospital for a toxicology test.
———
©2016 The Advocate, Baton Rouge, La