Car slams into parked ambulance injuring 2 children, 1 adult
The Nash County EMS providers did not sustain life-threatening injuries and cared for the injured vehicle occupants
---
NASHVILLE, N.C. — An ambulance, parked on the side of the highway, was struck by another vehicle early Wednesday morning.
The car plowed into the Nash County EMS ambulance which was stopped to assess the occupant of a vehicle that had driven off the road around 1 a.m.
The driver of the vehicle who plowed into the ambulance was not injured, but the passenger needed to be extricated. Two small children in the vehicle, who were not properly restrained, were also injured.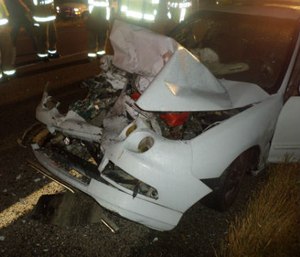 The Town of Nashville Fire Department statement said the EMS crew did not sustain any life-threatening injuries and cared for the patients.
The person from the initial vehicle off the road accident was uninjured.