APA to governors: Give EMS providers same vaccine priority as other healthcare workers
In a letter to the National Governors Association, the American Paramedic Association presents data about EMS providers' exposure to the virus and asked for equal priority in Phase 1
---
By Laura French
DULUTH, Minn. — The American Paramedic Association (APA) has sent a letter to U.S. governors requesting that EMS providers be given equal priority with other healthcare workers in the distribution of the COVID-19 vaccine. 
The letter sent to the National Governors Association, signed by APA President Nick Nudell, MS, NRP, FACPE, expresses concerns that EMS providers in some states are being given a lower priority than their counterparts working in traditional healthcare settings, such as hospitals and nursing homes.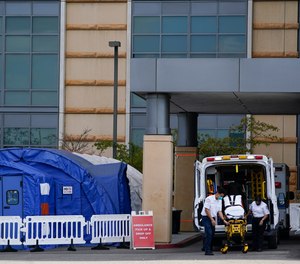 "We believe this inequity results from a lack of understanding of the real risks paramedics undertake when servicing their communities - as the tip of the healthcare spear; risks equal to or even more significant than their counterparts in the traditional healthcare setting compounds itself by introducing new community exposures," the letter states. 
Nudell points to data showing that paramedics spend an average of about 30 minutes in contact with each COVID-19 patient they provide care to, about half of which are spent in the confined space of an ambulance. He added that many ambulances lack adequate ventilation, and that providers also put themselves at risk performing aerosolizing procedures, such as rescue ventilation, without the same safeguards present hospital settings, such as powered air purifying respirators (PAPRs). 
"Additionally, paramedics will move from home to home many times in a shift, presenting a unique opportunity to be a vector for transmission," Nudell wrote. "Paramedics also provide our elderly and infirm transport to and from long-term care facilities for many reasons. They work side by side with police officers, firefighters, nurses, physicians, and others. Vaccination of paramedics reduces this risk and decreases the spread in the community and for long-term care facilities." 
The letter concludes by urging governors to ensure state vaccination plans place EMS providers in both the first phase of vaccine distribution, and in the same priority group as other high-risk healthcare providers. According to a state-by-state chart of vaccine priority for firefighters and EMS providers, compiled by the International Association of Fire Chiefs, most states have included EMS providers in the first phase of vaccine distribution, though many have placed them at a lower priority within Phase 1 than other high-risk groups (ex. Phrase 1B, 1C, etc.)
The letter also asks that governors work with the federal government to provider further protections for EMS providers, such better standards for ambulance safety, fatigue management, infection control and PPE use. 
"Paramedics are the tip of the spear for response, treatment, and transport of any disease that invades our borders. We collaborate with interdisciplinary teams once our patients enter the healthcare system. Please protect paramedics so we can continue this vital mission," the letter concludes.