APA, NEMSMA develop COVID-19 vaccine guidelines for EMS practitioners
The guidelines include information about vaccine timelines and safety, as well as specific recommendations for EMS providers and agencies
---
Will EMS providers get vaccinated against COVID-19? More than 500 EMS providers weigh in on influenza and COVID-19 vaccination mandates, ethical obligation and whether they will be vaccinated. Read the survey results.
By Laura French
DULUTH, Minn. — The American Paramedic Association (APA) and the National EMS Management Association (NEMSMA) have developed and published the first national COVID-19 vaccine guidelines for EMS practitioners. 
The guidelines, released Monday, include information about EMS providers' unique COVID-19 risk, the timelines of vaccine development and distribution and specific recommendations for both providers and agencies to follow when the Pfizer and Moderna vaccines become available. The document also addresses safety and ethical concerns surrounding the vaccine and a provider's choice to receive it.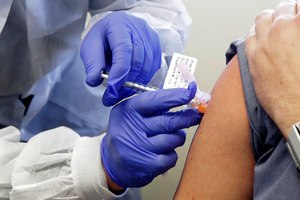 "It is important for paramedics and paramedic officers to understand the importance of being vaccinated against one of the most contagious diseases with high morbidity humankind has ever experienced. Paramedics must be vaccinated as soon as possible to continue their critical mission as the nation's safety net," said APA Board Director Scott Lancaster, PhD, in a statement. "Paramedic agency leaders have a vital mission to keep their employees properly trained, equipped, and as safe as possible. In addition to PPE supplies, this now includes plans for vaccination strategies and wellness monitoring." 
The organizations stress that the guidance is written by paramedics, for paramedics, and that EMS practitioners should be considered a top priority in every jurisdiction to receive the COVID-19 vaccine. 
"American paramedics are at higher risk of infection from COVID-19 than other healthcare providers or first responders. They then have great potential to transfer it to others unintentionally. Although the Federal government has recognized this and made appropriate vaccination priority recommendations, many state and local health jurisdictions have planned to delay access for paramedics," stated APA Board President Nick Nudell. "We feel this is a grave mistake that could have disastrous consequences not only for paramedics but also all those they come into contact with!" 
Both Pfizer and Moderna have submitted their vaccines to the Food and Drug Administration for emergency use authorization. The Centers for Disease Control and Prevention's Advisory Committee on Immunization Practices has recommended that healthcare workers, including EMS providers, and residents of long-term care facilities be the first to receive the vaccine when it becomes available. 
Read the full APA and NEMSMA COVID-19 vaccine guidance below: