N.Y. EMS services sending three ambulances to Ukraine
AMR, Monroe Ambulance and Rochester Fire Department are donating the vehicles, firefighter gear and first aid kits
---
By Kerri Hatt
ROCHESTER, N.Y. — Volodymyr Pavlyuk, who runs the Ukrainian charity group, ROC Maidan, shared a unique request with Monroe County Executive Adam Bello when asked what donations were needed for Ukraine: ambulances.
News10NBC reported Bello approached two EMS services in the county – AMR and Monroe Ambulance, who identified ambulances that were at the end of their lifespan and available to donate.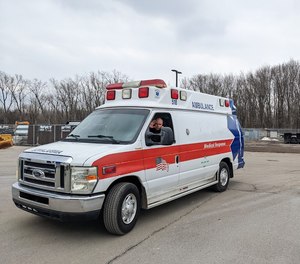 "That's not a request you get every day," John Caufield, COO of Monroe Ambulance, told News10NBC. "But here we are today with three (ambulances) coming out of Rochester, Monroe County."
Additionally, local fire departments, including the Rochester Fire Department, donated 150 packs of firefighter gear and first aid kits for those aiding Ukrainians.
Read more: Into the war zone: What firefighters, medics and EMTs should consider before going to Ukraine