ESO announces EMS industry predictions for 2022
The data and software company expects continued challenges with staffing and COVID, as well as advancements in technology and data usage
---
By Leila Merrill
AUSTIN, Texas — What trends will have the biggest impacts on EMS agencies this year?
ESO — a data and software company that serves EMS agencies, fire departments, hospitals and state and federal agencies — announced its predictions Thursday.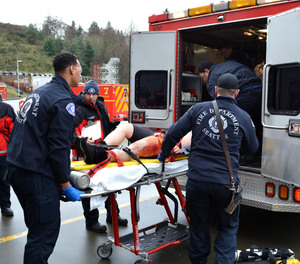 The firm expects to see staffing challenges, as well as additional changes due to COVID-19 as the virus evolves. It also predicts that new measures for success will emerge and that emerging technologies will have an impact on patient engagements.
"This is a bit of a seminal moment for EMS," Dr. Brent Myers, chief medical officer for ESO, said in a news release. "It will be critical for agencies to adapt in this dynamic environment to ensure ongoing success for this year and beyond."
Staffing
The Great Resignation will continue; according to ESO, no industry is immune, including EMS. Agencies, "will need to rethink models of engagement, the investment in and importance of training and education, as well as an approach to scheduling that gives providers more control over their lives."
COVID-19
EMS will continue to feel the effects of the pandemic, such as fewer opportunities for in-person training and higher call volumes. But the positive effects include increased use of telemedicine, an increase in alternative destinations for care and the recognition that EMS data is a timely source of information about a community.
Measures of success
ESO said that the limitations of traditional performance measures, such as response times, have been shown. It calls for new measurements such as judgment about transporting a patient to the best location based on need. ESO also calls for "outcome data to connect patient well-being to prehospital events and data."  
Technology
ESO said that wearables and other data sources and 911 dispatch centers' use of data continue to change and will inform healthcare providers.
The ESO 2022 predictions whitepaper is here.