2-tiered EMSA response system goes into effect for two Okla. cities
An Oklahoma City Council vote also put in place free, in-house paramedic training
---
Hogan Gore
The Oklahoman
OKLAHOMA CITY — The Oklahoma City Council approved an emergency ordinance change to the city's ambulance code during its meeting Nov. 23.
The proposal, which passed unanimously and went into effect immediately, allows for the Emergency Medical Services Authority to stand up units made to respond specifically to non-life threatening calls, known as basic life support.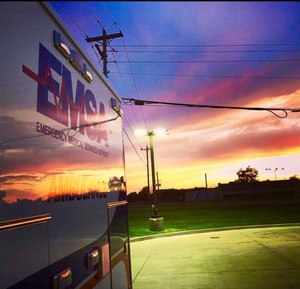 Previously, city regulations required each ambulance unit to include personnel who can provide advanced life services, or assistance in life-threatening situations, for all calls regardless of the severity of the situation.
The new plan is intended to keep more of the advanced life services crews available to respond to serious issues, while allowing the newly formed basic life services crews to take over lower tier cases that require less intensive care.
The move is anticipated to improve response times by 5% to 10%, according to officials.
In addition to lower staffing numbers, longer wait times created by stays at hospitals that can last hours, COVID-19 decontamination and fewer advanced life services qualified employees, Oklahoma City medical emergency responders are fielding 7.7% more calls this year than last.
"It's a pandemic. We have increased call volume, high wait times in the ER waiting for patients to be offloaded into hospital beds, sometimes as much as five or six hours," said Dr. Curtis Knoles, associate chief medical officer of the Medical Control Board, which oversees EMSA operations in Oklahoma City and Tulsa.
According to Knoles, the average wait time to offload patients can be as much as 90 minutes, which is not feasible for advanced life services responders who may be needed elsewhere for more serious 911 calls.
In August, prior to the new plan, EMSA was assisted by the Oklahoma City Fire Department in transporting heart attack patients and those with similar symptoms.
However, that is not a practice that EMSA or the Medical Control Board was keen to continue, as fire responders have other, secondary duties to perform while responding to calls even though each fire unit is equipped with an advanced life services paramedic.
Outside of changes to response codes and assistance from the fire department, EMSA is also trying to educate and retain new employees by offering paid training, which will begin in January with the potential for multiple classes to happen simultaneously.
"A pool of paramedics nationwide is just not there," said James Winham, EMSA president. "How we are countering that is we are offering our own paramedic schools in-house."
Nearly 10% of calls in 2020, or 22,600 cases, fell under the basic life support umbrella, according to EMSA data. As a result of these numbers, leaders of the city's Medical Control Board, EMSA and the fire department believe five to seven teams of basic life services responders should be available daily.
The Medical Control Board and EMSA have already invested $20,000 in new ambulance monitors that will be used to streamline the tiered dispatch system in Oklahoma City.
The tiered-response plan is expected to have a financial impact with an estimated loss of revenue between $200,000 to $250,000 per year, as basic life services responses bring in less money than advanced life services calls, by about $70 in each case.
Moving forward, the change in EMSA operations is effective for both Oklahoma City and Tulsa, as both cities are required to have compatible operations.
___
(c)2021 The Oklahoman
McClatchy-Tribune News Service