Okla. city council approves EMSA plan for a two-tiered response system
With Tulsa onboard, the proposal goes to Oklahoma City
---
By Leila Merrill
TULSA, Okla. — The Tulsa City Council voted Wednesday to remove the requirement that every EMSA ambulance have at least one paramedic, the Tulsa World reported.
The proposal would create a two-tiered system of advanced life support and basic life support. The BLS ambulances would have two EMTs on them.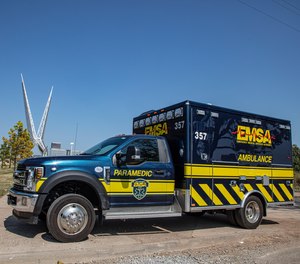 The vote came in response to a proposal from the EMSA board of directors, who are trying to cope with a paramedic shortage and resulting in slower response times.
The plan would cover the whole EMSA system, which includes Tulsa and Oklahoma City. Both would have to approve the change for it to take place. Oklahoma City's City Council is expected to approve the change in November.