San Francisco medics respond to Cash App founder's fatal stabbing
After being transported to a hospital, tech executive Bob Lee died
---
By Summer Lin
Los Angeles Times
SAN FRANCISCO — Tech executive Bob Lee, who founded the mobile payment service Cash App, was killed in a stabbing in San Francisco, according to authorities and media reports.
Police responded at about 2:35 a.m. Pacific time Tuesday to a report of a stabbing on Main Street in the Rincon Hill neighborhood, near the San Francisco-Oakland Bay Bridge, the San Francisco Police Department said in a news release. Officers found a 43-year-old man suffering from stab wounds and administered aid.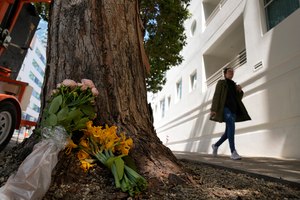 After paramedics were called to the scene, the man was taken to a hospital, where he died, police said. The attack is under investigation, and no arrests have been made.
The Police Department declined to provide further information, citing the ongoing investigation, but multiple media outlets have reported that Lee, who was chief product officer at cryptocurrency startup MobileCoin, was the victim.
The killing reignited concerns from some high-profile figures over public safety in San Francisco, where a progressive district attorney who had become a lightning rod for controversies over crime and homelessness was recalled by voters last year. His replacement, Brooke Jenkins, said upon her appointment that San Francisco was "at a tipping point."
"I want to extend my sincerest condolences to Mr. Lee's family members & loved ones for his loss," Jenkins tweeted Wednesday. "We do not tolerate these horrific acts of violence in San Francisco."
Reactions from the tech world included Twitter Chief Executive Elon Musk, who expressed condolences to a friend of Lee's and asked Jenkins whether the city is "taking stronger action to incarcerate repeat violent offenders," though it was not clear whether the person who attacked Lee has a criminal history.
"Violent crime in SF is horrific and even if attackers are caught, they are often released immediately," Musk tweeted.
Later Wednesday, Jenkins updated her statement on Twitter, saying "holding violent/repeat offenders accountable is a top priority for my administration."
"No one who commits a violent crime, or who's a repeat offender are receiving overly lenient plea deals," Jenkins said.
Lee's friend, mixed-martial artist Jake Shields, wrote on Twitter that Lee "was in the 'good' part of the city" when he was stabbed, on a block near luxury condominium complexes and many office buildings, including Salesforce Tower and Google's San Francisco offices.
Though public concerns over crime have gripped San Francisco in recent years, adding fuel to last year's district attorney recall campaign and pushing top officials to adopt more law-and-order stances. Overall violent crime fell 13.6% from 2019 to 2022, and incidents decreased from 6,152 to 5,315, according to police statistics.
Still, some individual categories of crime surged during that time: Homicides rose 36.6%, from 41 to 56, though the count in 2019 represented San Francisco's lowest number of killings in more than half a century.
The Police Department has investigated 12 homicides so far this year, compared with 10 during the same time period last year, according to crime statistics.
San Francisco Supervisor Matt Dorsey, who represents the area where Lee was killed, said he has heard from constituents who expressed concerns about public safety and encouraged residents to help with the investigation, especially those who many have surveillance video.
"My heart goes out to Mr. Lee's family members, friends and loved ones," Dorsey tweeted. "This is a senseless tragedy that I know is made worse by the fact that no suspect is yet in custody."
MobileCoin CEO Joshua Goldbard said, "There will never be anyone quite like" Lee.
"As a lifelong Bay Area resident I have more questions than answers tonight," he wrote early Wednesday on Twitter. "I don't know how to fix what's wrong, but I know something isn't working in our grey city."
MobileCoin issued a statement about Lee's death but didn't release any details.
"Our dear friend and colleague, Bob Lee passed away yesterday at the age of 43, survived by a loving family and collection of close friends and collaborators," the statement said.
"He was made for the world that is being born right now. Bob was a child of dreams, and whatever he imagined, no matter how crazy, he made real," MobileCoin said. "Bob was made for the new world."
Lee had worked at MobileCoin since 2021 and previously served as chief technology officer at the payments platform Square, which has since been renamed Block, in addition to founding Cash App.
———
©2023 Los Angeles Times.
Visit at latimes.com.
Distributed by Tribune Content Agency, LLC.
McClatchy-Tribune News Service