Ore. medic accused of drugging, raping women charged with federal crimes
Edward Augustus Blake, 44, a Eugene Springfield Fire Department paramedic, allegedly obtained controlled substances illegally through his position and administered them via IV to victims
---
By Laura French
EUGENE, Ore. — An Oregon paramedic accused drugging and raping multiple women has now been charged with federal crimes for allegedly obtaining controlled substances illegally through his EMS position. 
Edward Augustus Blake, 44, a Eugene Springfield Fire Department medic, was charged with conspiring to possess with intent to distribute fentanyl, morphine, ketamine and midazolam after allegedly picking up 343 vials of the drugs from a pharmacy and never entering them into his ambulance's inventory, according to a press release from the U.S. Attorney's Office of the District of Oregon.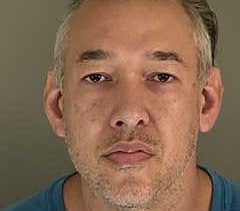 "Instead, Blake used the drugs to sexually assault at least three local women," the press release stated. 
Blake was charged last year with first-degree rape, sodomy, strangulation, causing another person to ingest a controlled substance and unlawful delivery of a controlled substance in Lane County Circuit Court. He is in state custody pending trial on those charges and is expected to make his first appearance in federal court in the coming weeks. Department of Justice investigators are seeking the public's help identifying potential additional victims in the case and have asked anyone with information to contact the FBI or submit an online tip. 
Officials say one woman told investigators Blake told her he was a Eugene Springfield firefighter and sent her photos of medical supplies and medications he claimed to have taken from an ambulance. The woman said she went to a motel with Blake, was choked unconscious and regained consciousness to find an IV in her arm. Blake is accused of drugging the woman with fentanyl and sexually assaulting her while she was unconscious. 
Another woman told investigators she obtained controlled substances from Blake and was hospitalized multiple times, and that Blake would come into her hospital room and administer drugs to her through an IV.
"She recalled Blake telling her to sell the drugs, but warned her not to let anyone keep the vials, because they could be traced back to him," the U.S. Attorney's statement read.