NY city adjusts starting wages for new ambulance service after backlash
After initially posting starting salaries as $14 an hour for an EMT and $20 an hour for a paramedic, Auburn officials "reevaluated things"
---
Kelly Rocheleau
The Citizen, Auburn, N.Y.
AUBURN, N.Y. — The city of Auburn is now hiring for its new ambulance service and is on track to launch in the fall as planned, the city manager said last week.
The city-run emergency medical service was approved by the Auburn City Council in June. The contract with its longtime private provider, TLC Emergency Medical Services, is set to expire at the end of October, with Auburn poised to begin its operation on Nov. 1.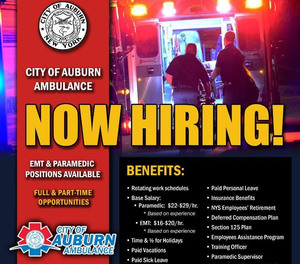 The city has been marketing the availability of emergency medical technician and paramedic positions in recent weeks. It also is on the verge of hiring the person who will oversee the newly created city department.
City Manager Jeff Dygert said in an interview with The Citizen Friday that 17 people applied for the director of operations job that was posted earlier in the summer. A shortlist of applicants, based on their qualifications and resumes, will be interviewed in the next week.
The city hopes select a candidate soon, Dygert said, and that person will have "an integral part" in hiring the emergency medical technicians and paramedics who will staff the department.
The hiring for those posts did hit a small hiccup. After the initially anticipated starting pay was announced in an Aug. 2 post on the Auburn Fire Department's Facebook page, the city "did take a beating" in comments from people decrying the wages as too low, Dygert said.
The flier first listed the starting salary as $14 an hour for an EMT and $20 an hour for a paramedic. The next day, the AFD posted a new flier with updated information. The salaries were bumped up to $16-$20 an hour, based on experience, for an EMT, and $22-$29 an hour, based on experience, for a paramedic.
Dygert said the change came after city officials "reevaluated things." Because purchasing ambulances and other equipment has costed "significantly less" than originally estimated, those savings allowed for wages to be raised.
That said, the city manager believes the city is also offering a strong benefits package that isn't available in the private sector, including eligibility for the state pension system and competitive health insurance.
"Our benefits package for health insurance, we are pretty sure, based on what we know in the industry locally, is a better benefits package for health insurance as far as the coverage and the co-pays and premium pay for an employee," Dygert said. "We've got some side-by-side comparisons based on what we know of local private sector benefits and it will be, I would think, an attractive option for people in that field of work."
Another change from the original plan is that part-time jobs are also now available in Auburn's ambulance service. Dygert said in May that the service would have 25 positions — the operations director along with 12 full-time EMTS and 12 full-time paramedics. As the planning process has continued and as the city spoke to professionals in the emergency medical industry, Dygert added, it became clear that there are workers in the field who prefer part-time positions.
"Maybe there's some local people who enjoy that line of work but they're not in a position to work full-time for whatever personal reasons they have," he said. "So that would be a benefit for them and a benefit to us as well."
Staffing is still anticipated to be at 25 seats with 12 paramedics and 12 EMTs, but the amount of full-time and part-time workers will depend on the responses the city receives.
As of Friday morning, Dygert said, the city received about 20 applications for EMT and paramedic posts. Applicants have ranged from those who are certified but have little to no experience to people who have been in the field for years.
Dygert said he is confident about the Auburn service meeting its Nov. 1 starting date. He added that the city's financial projections are still showing that the service can be done without dipping into Auburn's general fund, and a tax won't be raised to support the service.
The city manager said the Auburn Fire Department is helping the city get the program off the ground. The ambulance program's director of operations will take over from the AFD management once that person has been brought in.
Auburn has been working with its current emergency medical services provider, TLC, since 2006. The company has been contracted to handle Auburn's ambulance coverage via a certificate of need the city secured from the state shortly before TLC was brought on board. The two entities' contract has gone through several extensions since mid-2018.
In recent months, Dygert has publicly raised concerns about TLC's availability and transparency. TLC officials have responded by pointing to a long record of service without formal complaints at no cost to taxpayers, and they have questioned the long-term financial viability of a city-run service unless it is subsidized by taxpayers.
TLC said despite disagreeing with the city's decision, it will work to ensure a smooth transition. City council authorized a resolution in June extending Auburn's present agreement with TLC through Oct. 31.
Overall, Dygert is feeling food about the process so far, adding that it has been "a heavy lift," but he believes it needs to be done.
"From feedback I've gotten from other people in the industry, we're heading in the right direction," he said. "This is something that I think you're going to be seeing some other municipalities doing very shortly as well."
___
(c)2021 The Citizen, Auburn, N.Y.
McClatchy-Tribune News Service