EMT assaults partner, takes ambulance on wild ride
EMT Kyle Lathon was arrested after a fight with his partner and striking mailboxes and a transformer with the ambulance at a high speed
---
DULUTH, Ga. ― EMT Kyle Lathon, 22, faces multiple misdemeanor charges after he and his partner got into a fight that turned into a reckless ride through a residential neighborhood Wednesday.
Gwinnett County Police responded to a suspicious vehicle call after numerous 911 calls about an ambulance driving at a high rate of speed and knocking down mailboxes.
One caller also reported that one of the crew members had been stabbed.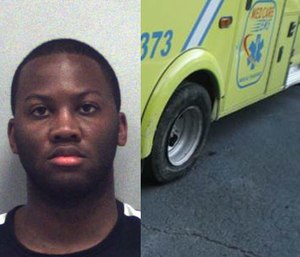 Police found Lathon's partner who had a large laceration on his leg. He told police he was not stabbed and that he received the laceration after jumping off the back of the moving ambulance.
The two Med Care EMS Transport partners had been arguing throughout the shift. They were in the neighborhood to pick up a patient when they realized they had left the wheel chair needed for the transport at the hospital, which caused additional tension.
After driving back to the hospital, retrieving the wheel chair and returning to the location, Lathon's partner asked Lathon to take the wheel chair to the passenger.
"At that point, the passenger (Lathon) got out of the ambulance and went over to the driver and a fight ensued," Cpl. Deon Washington told WSB.
Lathon grabbed his partner around the throat and pulled him out of the ambulance. Lathon allegedly pulled a knife and chased the male around the ambulance before jumping into the driver's seat as the other male jumped onto the rear bumper of the ambulance.
Lathon drove off at a high rate of speed as the other male clung to the ambulance briefly before jumping off the bumper. Lathon continued driving through the neighborhood striking at least five mailboxes, a transformer and a number of yards and curbs.
A short time later Lathon, an EMT since 2012, returned the ambulance to Med Care EMS in Buford where he was arrested.